Hi! Welcome to my crash-course on bouldering crash pads! In other posts, I've enthused how new climbers should get with bouldering first to master climbing techniques. It's a lot easier because you're lower and you don't need ropes, harnesses, or belay devices to get your climbing fix in.
Many people that go bouldering remember a helmet, but a bouldering crash pad is another essential that shouldn't ever be overlooked. Remember, you're going to fall. Bouldering is the only type of climbing that requires you to fall off. You might not be very far off the ground, but if you land a certain way, you can get hurt. From big bruises that suck to broken bones, you can avoid this kind of injury and the resulting down time by investing in a bouldering crash pad.
They generally range from $150 and up, but consider this: isn't that a lot less than the cost of going to the ER for a broken leg? These 7 bouldering crash pads I've assembled here are all fantastic choices. If you need one, you should look no further, but each one has its own advantages that might be a better match for your personal needs.
Some things to think about when you're looking at these 7 best bouldering crash pads:
– How do you want it to close?
There are different options for closing your bouldering crash pads. One style is that of the taco, and as the name implies, it's a solid piece of foam that you fold in half much like that divine food that you are likely going to run out and grab for lunch. There's also the hinge style which involves two pieces of stitched-together foam that folds up nice in the middle. The baffle is another one which looks like a burrito thanks to the separate tubes of foam your roll closed. Great, now I'm hungry!
Anyway, it has to do with your preference of style. One style isn't any better than another.
– How thick and stiff do you want your foam?
There are different crash pads designed for different bouldering situations. Some are best for highball boulder problems. Others are made for shorter ones. The stiffness of the foam and its thickness all vary. If you're going for the taller boulders, you'll want a thicker, stiffer pad. If you'd rather keep things lower, a thinner and softer foam will suffice, plus it will be less heavy to carry.
And before I get into my list, I want you to know that you shouldn't just focus on the budget. If you're new to bouldering and climbing, I get it. It's an expense, but it's one that could save your life and protect you from major damage. Don't buy something crappy. Everything on this list is of the utmost quality and I've selected a bunch through a huge range of budgets so everyone will find something that works for them.
You get what you pay for with bouldering crash pads, so if you choose something shoddy and cheap that isn't durable, you're going to be replacing it sooner rather than later. Stick to my recommendations and pick one of them based on your bouldering needs and you'll be good to go!
The Mad Rock R3 features a baffle design that's outstanding for some of the toughest landings. It's big and thick, making it very versatile for falls that are short to mid-height problems. Easy to tote, you roll it up into a burrito and attach the included flap to slap onto your back.
Total bonus: you can stuff all your gear in there too, making it even easier to go out bouldering. And you can even sleep on it since the foam conforms to your body. With a large surface area, it's one of the most affordable bouldering crash pads around. It's also filled with recycled foam, making it an environmentally-friendly choice yet one that will last and hold up through your toughest situations.
There is just one downside that I've found with the R3… it's a little bit heavy. But because you can use it as a pack too, you can cut down on the overall weight of your gear if you pack it smart.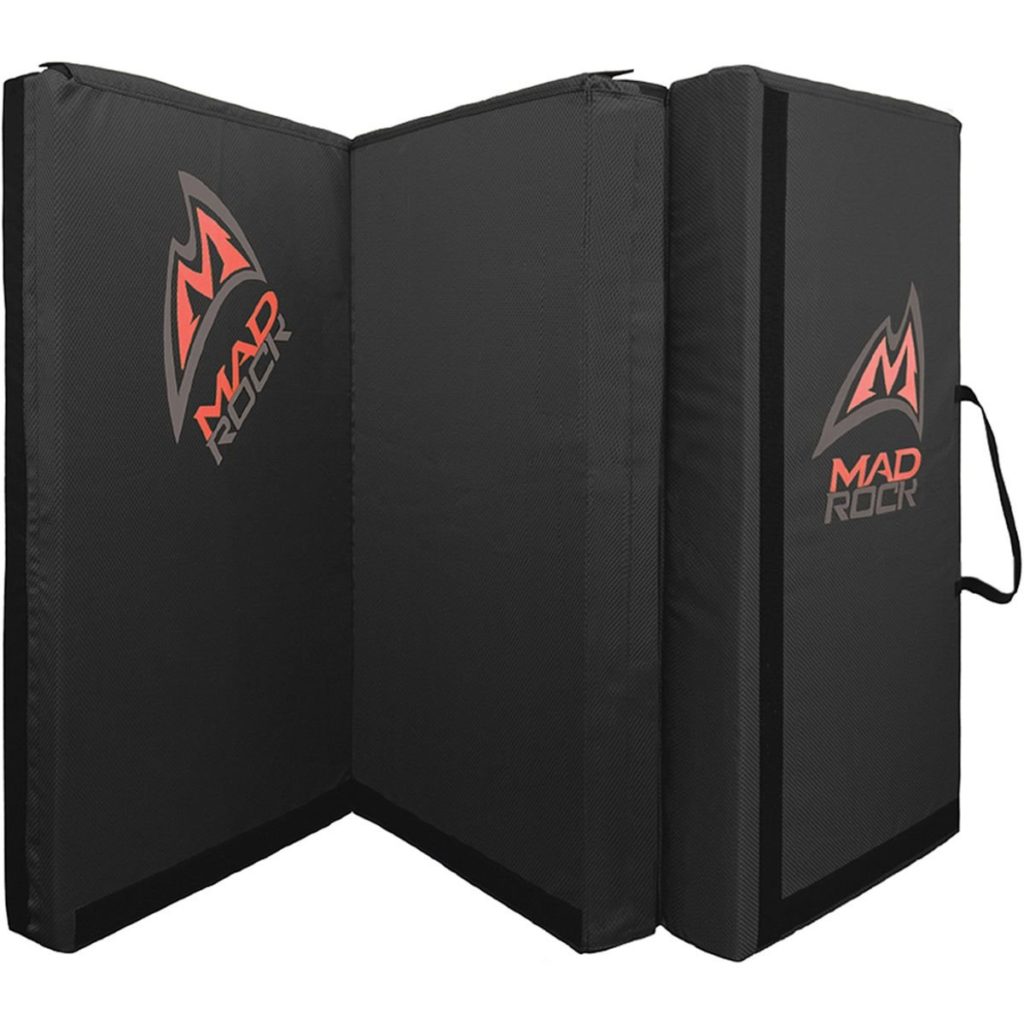 Another affordable option from Mad Rock is the Triple Mad Pad. It's got some sweet features that I think you'll love. The convenient strap and tri-fold design means you can finagle it into a little comfy couch. The Velcro tabs that join the hinges together are very durable, meaning you're not going to drop your foot through there and wind up in a world of hurt.
It's very large and has a 5-inch thick stiff foam. Over sharp rocks, it gives you a soft and safe landing. While it's a great and sturdy option that will keep you safe, the biggest disadvantage is the triple-hinge design which makes it much harder to carry. You'd need to use a smaller backpack and that could be a problem for more experienced boulderers who want to bring more accessories like an extra pair of climbing shoes, a big chalk bucket, and other bells and whistles.
But if your load is light, this one will be just right. Plus, it has a really cool advantage and that's thanks to the Velcro attachment. You can add other pads to it and attach them together to make a bigger pad when you can afford more Mad Pads. Even without that, it's big enough for sleeping on, can turn into a chair, and has a nice little carpet patch for cleaning up your feet.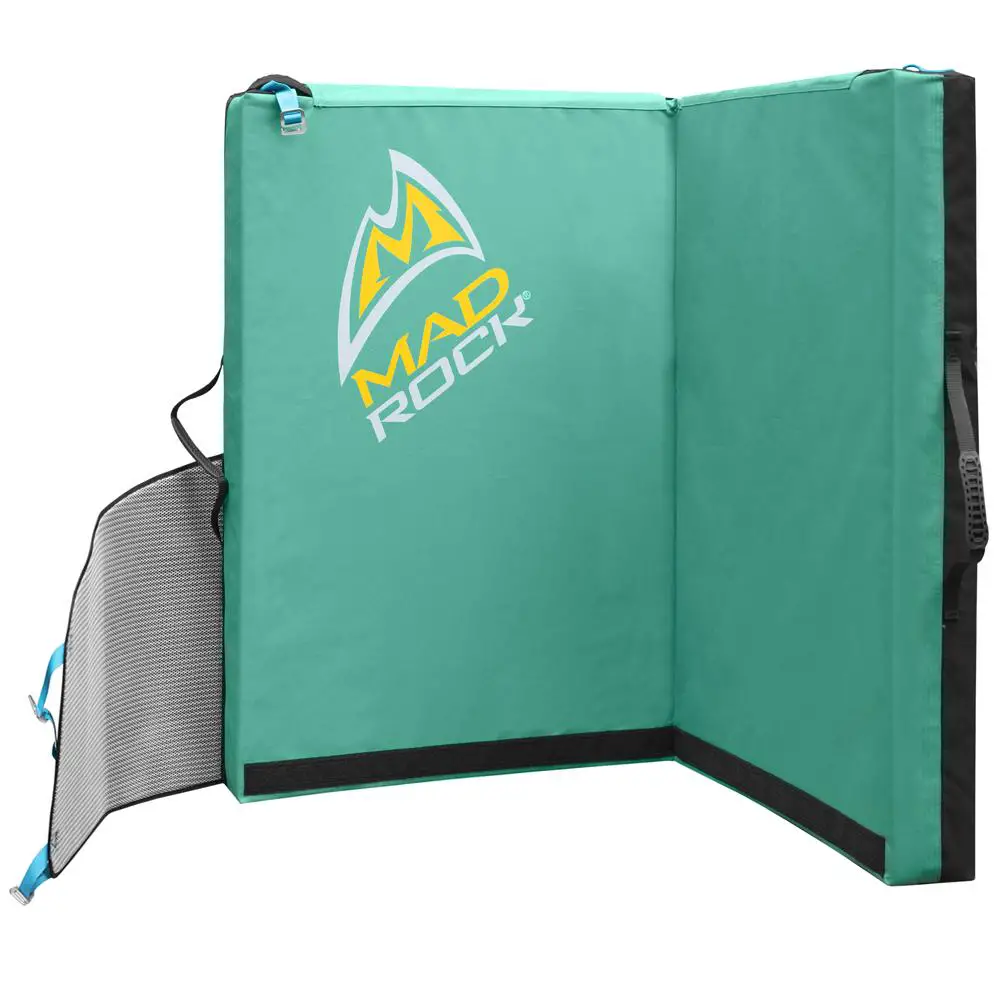 Another Mad Rock option is the Duo which is a great choice for you if you want to carry a second pad along. The innovative strap system it has in place makes that super-easy. The ultra-thick foam is like the Triple Mad Pad too. It's large enough to be used on its own, but with a second pad, this is a smart choice if you like to boulder alone or want extra ground coverage to be on the safe side.
Because of the foam, it's really stiff so low falls or oddball landings will be rough. It does soften up over time, but if you're looking for something softer for shorter falls, this one won't be for you. For those of you that don't want to wait for a buddy to go bouldering, you'll love it, plus it also has couch straps, a welcome mat, and plush suspension to carry heavy loads.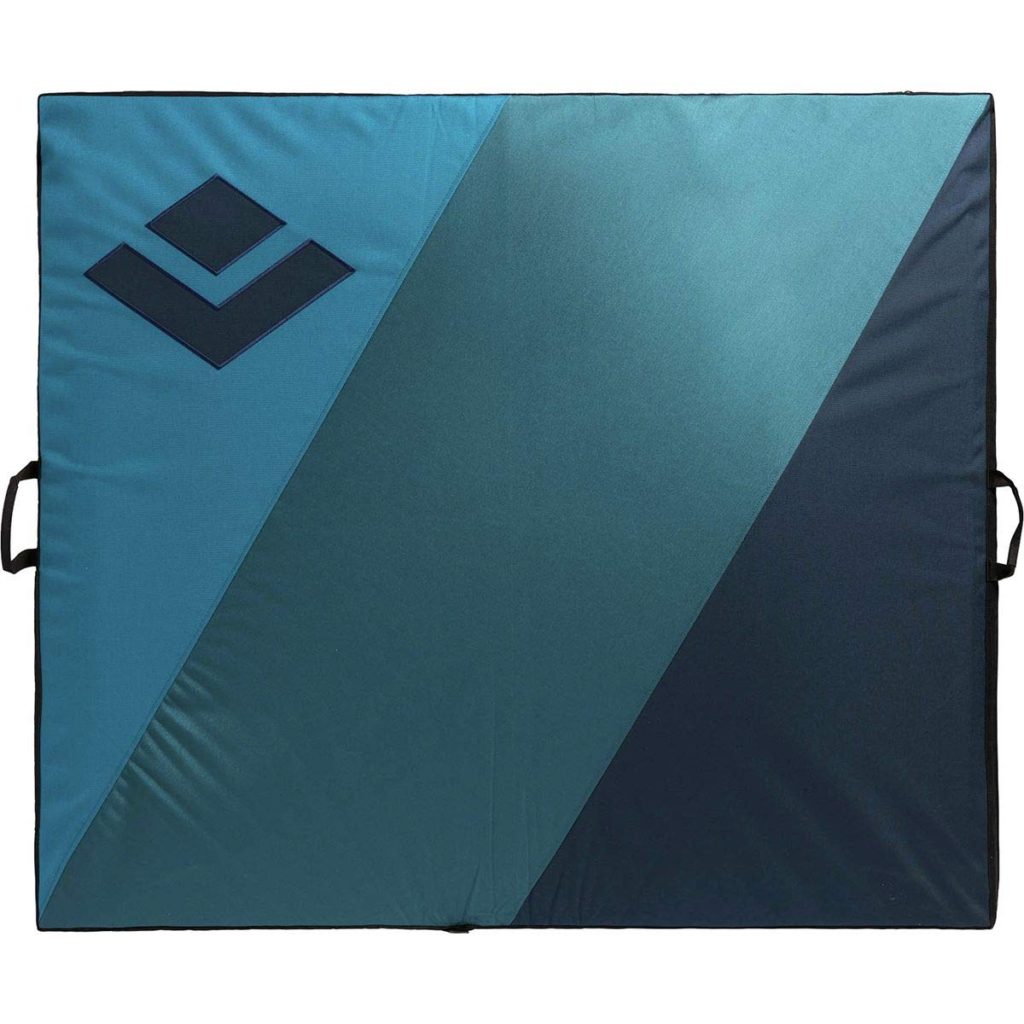 If you want a bouldering crash pad that you can use in most situations, Drop Zone is a great choice. It features a hinge-less taco style and can efficiently cover sharp and rocky landings. The flap closure holds your gear well and it has thoughtful handles to make carrying it easy.
It also has a rubberized coating on the back to make it waterproof so it adds some durability and functionality to it while helping it stay put on angled landing areas. You'll also like those sturdy buckles made of metal hooks that are easy to use. You can remove the shoulder straps and hip belt so you don't trip, or use them to strap it to trees.
Some disadvantages it has though are that it's a bit pricey, and the foam is thinner at 3.5 inches. That means it will wear out a bit faster than thicker options, but if you're sticking to low bouldering problems, it will be a nice match for your needs.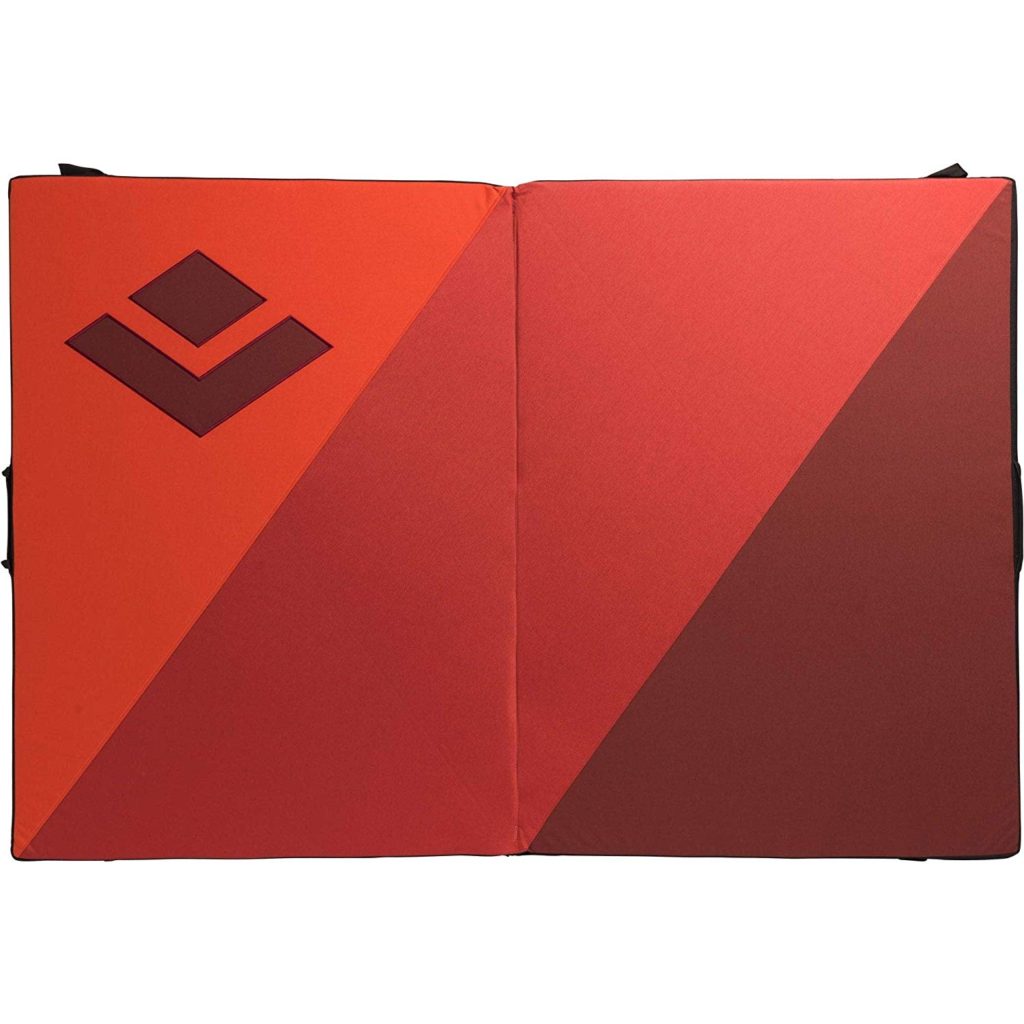 Want a large bouldering crash pad? The Mondo is for you! It's much more than large. In fact, it's one of the biggest I've seen at 44 inches wide by 65 inches long. That's a whole lot of coverage and a whole lot of peace of mind.
Speaking of peace of mind, the foam inside is 5 inches thick which is up there as one of your thickest choices. It's great for those of you who want to climb tall boulders as well as anyone that wants a larger size to give them a better fall zone.
But one thing you'll love is how it can transition for shorter boulders. On the downside, it's not very easy to carry, weighing in at 20lbs, but that's a small price to pay for being able to use it to protect you with every type of bouldering problem. It's a little expensive too check out the current price on Amazon, but for all the options it provides, it's definitely a worthy investment.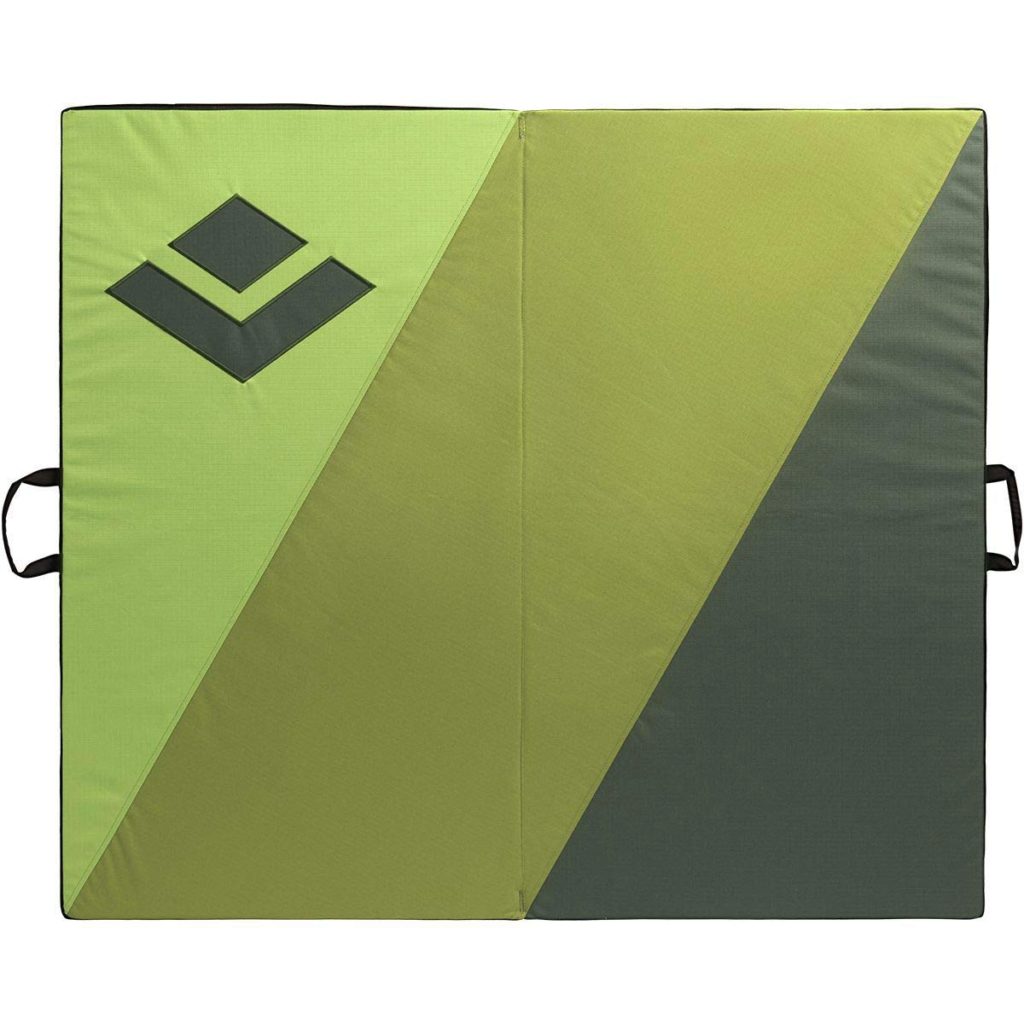 6. Black Diamond Impact
For newer boulderers, you may find the Impact by Black Diamond to be a great companion. Since you're likely not going to exceed certain heights or attempt difficult problems, this one will be a good option that will serve you well even when you begin to venture outside of your comfort zone.
The Impact is pretty large and features 4 inches of foam thickness, ideally suited for low to medium height problems. It's semi-stiff too, so it's comfortable enough to fall or jump onto over and over, and should you go higher, you'll find it provides awesome protection from those falls too.
With a sturdy strap and hinge system, it's easy enough to carry and doesn't present a problem for most car trunks. It makes a nice chair or bed in a pinch too, something you'll no doubt appreciate when you need a break outdoors.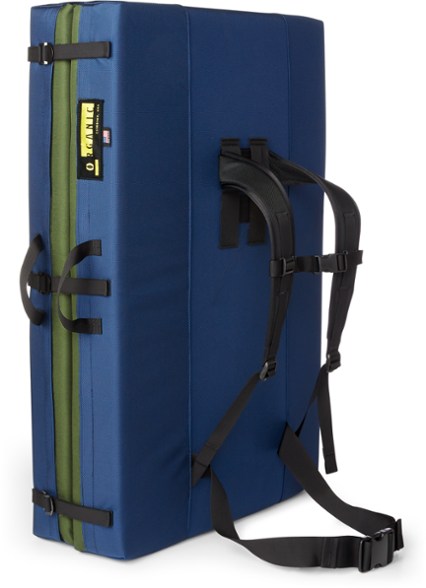 7. Organic Full Pad
Organic was once just a small brand that gained huge popularity because it made such high-quality products that truly endured. So a bouldering crash pad from Organic is a smart investment. Yes, a bit pricier, but very worth it. It's super-sturdy, very functional, and the design is incredibly well-thought-out.
This Full Pad is 3' x 4' and 4 inches thick, giving you a nice bit of standard coverage and plenty of support for most problems. One thing that makes it really cool is that you can choose the colors you want on the outer fabric so it feels a bit more customized. When you fold it shut, it has plenty of cool features for keeping your gear inside too, making it smartly-designed and easy to carry.
Organic is also known for really great customer service, so if that's something that's important to you too, you should definitely check them out.
Conclusion
Each of these 7 bouldering crash pads are among the best for your money, hands down. Depending on what bouldering problems you want to tackle, you'll have to choose the one that best meets those needs.
I must put in my two cents here and that is this: if you think you don't need a bouldering pad and don't want to spend the money on it, I strongly urge you to reconsider. My buddy Tim told me about a time he'd arrived out to a bouldering site and found a boulderer writhing in pain on the ground. He thankfully had a helmet on but he was bouldering alone and without a crash pad. Foolish! He was lucky he wasn't more seriously injured.
When Tim told me that while I was getting more into climbing and bouldering, I knew investing in my own crash pad was well worth the money. And it has been because even the best climbers will fall when they're bouldering. We all fall. The only thing that will help us get back up again is a good bouldering crash pad.
Plus, you'll be glad you have it along when you want a chair to sit in and eat snacks, take a nap, or stay the night under the glorious star-lit skies. Be safe, get a bouldering crash pad, and reduce your risk of injury.