For women climbers, it's important to get a harness that fits you just right. This is one of the most important pieces of safety equipment we use anywhere we climb, which is why you should invest in your own climbing harness designed just for women.
Whereas helmets are typically unisex, harnesses over the years were made for the male body. But nowadays women are shredding it on the crag, so, manufacturers of climbing equipment have certainly noticed and given them a huge, "Heck yes, Sister!" by creating harnesses made just for their dimensions.
Yes, they look really similar. But go try them on. Go ahead, I'll wait here. And you'll see. You will feel the difference of how it feels more in tune with your body. I know, I know. I thought the same thing when I was first starting out into climbing. I'd just rent whatever they had at the gym.
But when I went to buy my own equipment, I tried on harness after harness and just couldn't get the right fit. Until I picked up the ones made just for women. Now I'm a believer, and trust me, you're going to be too. If you told me they have climbing ropes just for women, I'd insert an eye-roll here but when it comes to something like a harness, you want a fit that really fits you.
It's like jeans. Sure, you can pull on your husband's jeans but even if you're about the same height and weight, they're just not going to fit you right. You could go out in public if you had to, but you'd feel a bit like you had duck feet, you know? You need something that gets your unique womanly curves and conforms to your anatomy, so please make sure you shop for climbing harnesses for women and don't settle for a harness that doesn't give you the comfort and support you deserve.
I've selected these 8 climbing harnesses for women that I think have really hit the mark. Check them out and see which one fits your needs!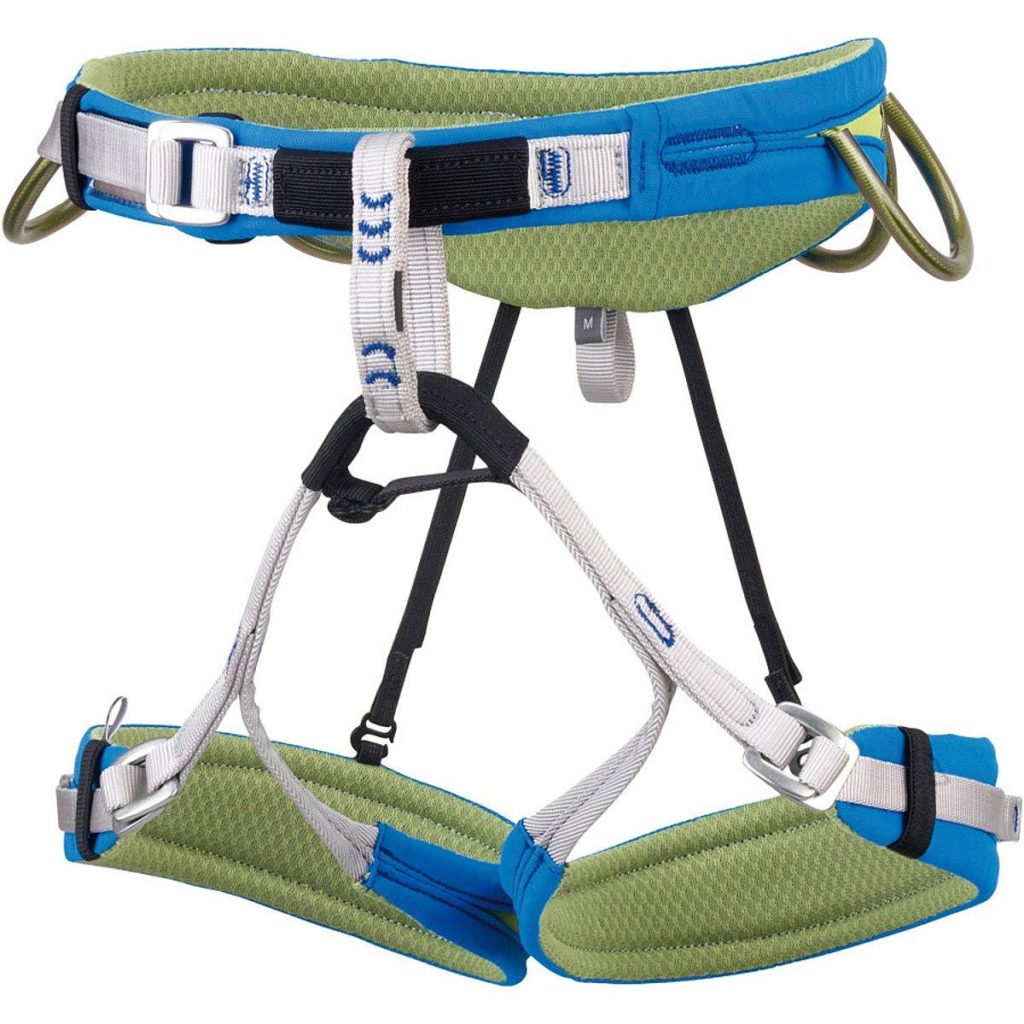 What I like about the Supernova is that it was made for a woman's body. It's not some modified man's harness. What this means is you put it on and it's comfortable and ergonomically designed for your lady parts. It's lightweight and very mobile without constricting, a nice bonus.
With a 3mm layer of foam padding, it brings the comfort that will keep you happy on the crag. The no-twist belay loop helps keep things from getting tangled up while the leg loops detach on the legs rather than on the waist belt, so you have your back buckle free, great for all kinds of climbs. You can pretty much do anything in this harness.
It definitely gets a lot of things right, but the material could be more durable. If you're going to put this one through heavy usage and give it a beating, you may need to replace it sooner rather than later, but if you like climbing lots of different styles of routes, this is a great choice.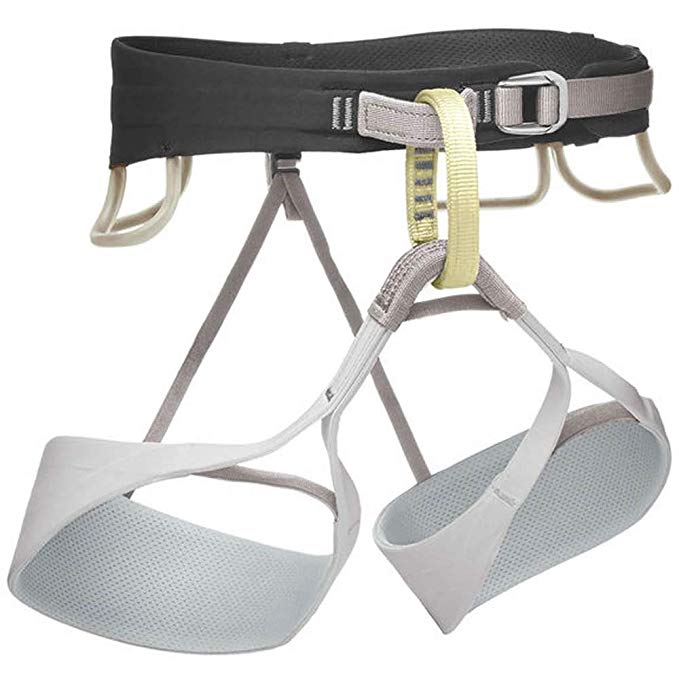 Love sport climbing? Then step right up! Black Diamond's Solution is quite the solution for female climbers. It's very lightweight and breathable, and incredibly comfortable. What's surprising is how thin it is and there's such little padding yet the comfort is fully there.
It capably distributes the load through the waist belt and the leg loops give you three different strands of thin webbing, something I loved because there's no pressure point. I always hated men's harnesses for that. I'd have to tune out that nagging in my head about a certain pressure point and that took away from the enjoyment of my climbs. Not with this thing though!
While the leg loops are really elastic and stretchy to fit while allowing for your mobility, the one caveat here is that they aren't adjustable. So if you have bigger or smaller thighs in relation to your waist, this just might not be your perfect fit. It's not the best for belaying either but it's awesome for sport or trad.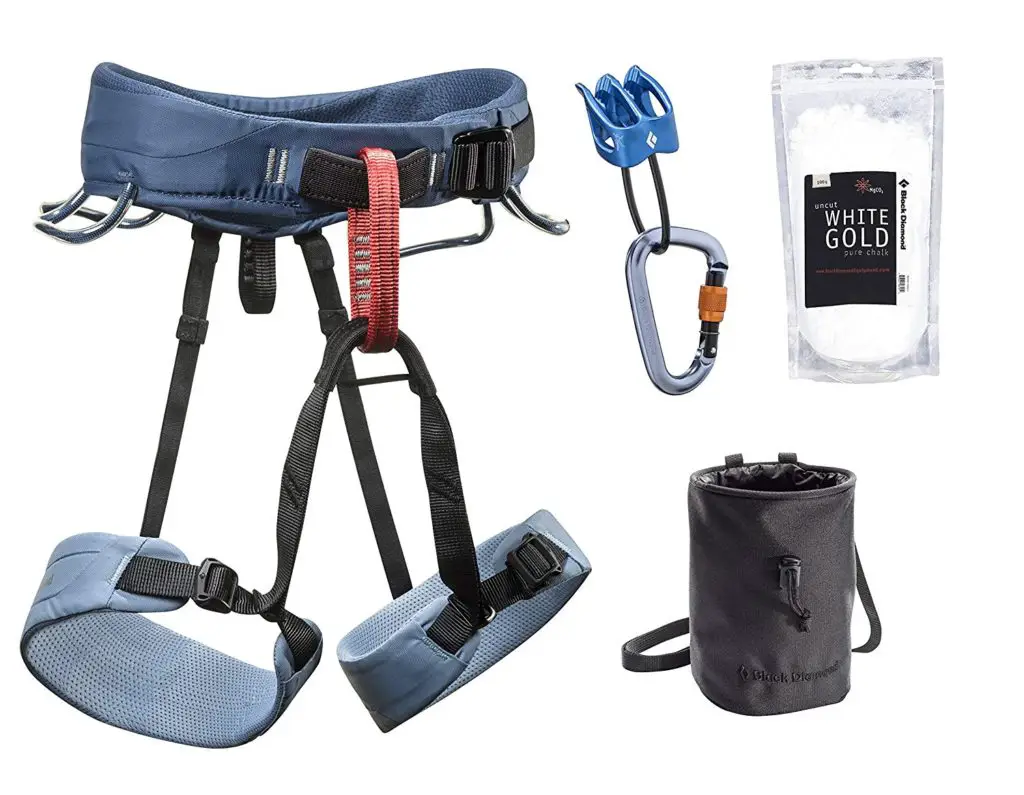 Have you heard of the Primrose by Black Diamond? The Momentum is the latest version and it's a great value with lots of padding for spectacular comfort. You can use it on a variety of climbs and lots of lady climbers clamor for it, because it's so comfortable yet highly adjustable and very secure.
It kind of does it all. It has rigid gear loops sticking out from the waist belt so you can clip and unclip fast and the haul loop in the back is nice and sturdy too. With all that thick padding on the waist belt, it's terrific for hanging belays. But on warm days? Ugh. You'll be super sweaty but if you can overlook that and tend to sweat a lot during your climbs, then you won't mind at all. I highly recommend it if you're just starting out for the durability, overall comfort, and value.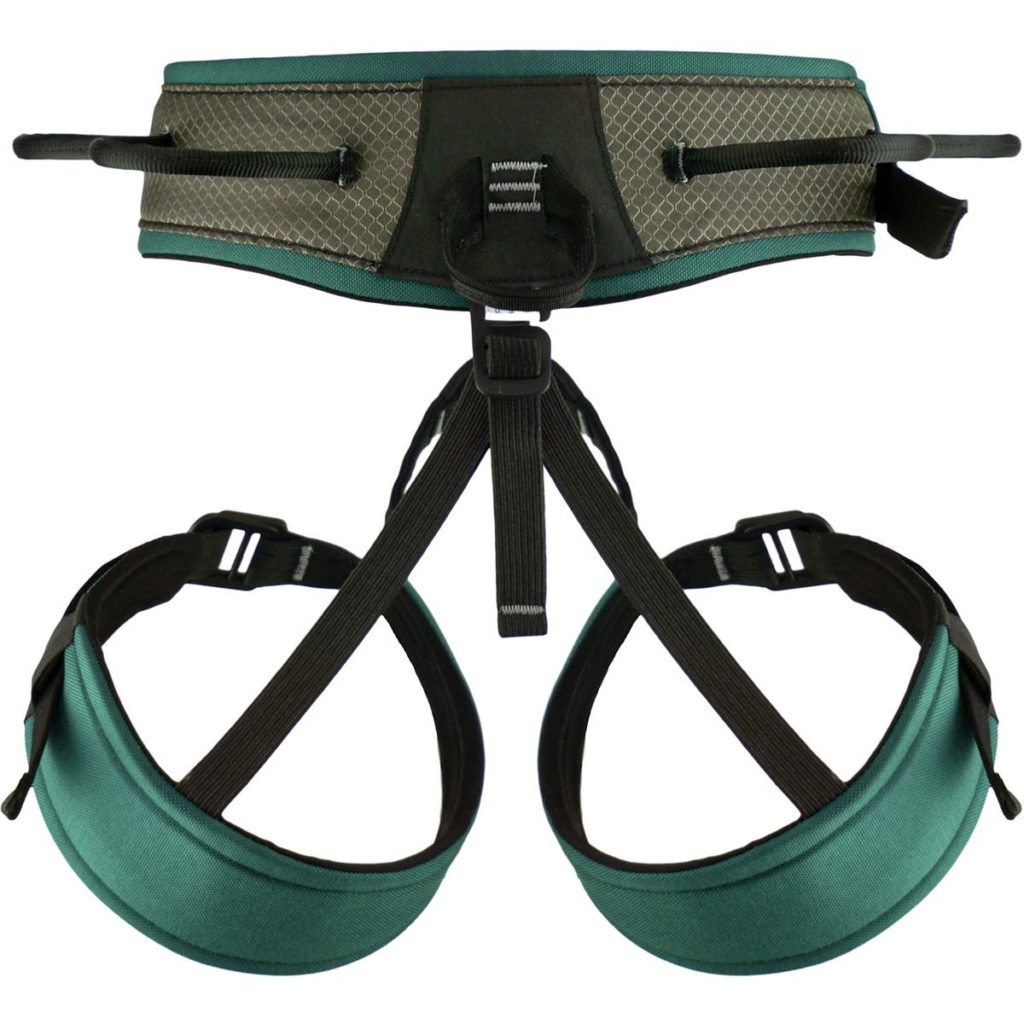 Like the thrill of an all-day multi-pitch adventure? Then Misty Mountain Silhouette won't disappoint. The thick padding on the waist belt will keep you in check. It's sturdy and strong but a bit heavy. You can work that out though for the absolute comfort you get from it and the gear loops that give you room for a double rack of gear.
The thing to love most about it though is how customizable it is. Need it smaller? No problem! Need to adjust the leg loops for your thighs? Go for it! It's well-thought-out in recognizing that not all of us women are the same size. I really truly love that about this harness. We're not all one-size-fits-all, and they just get it.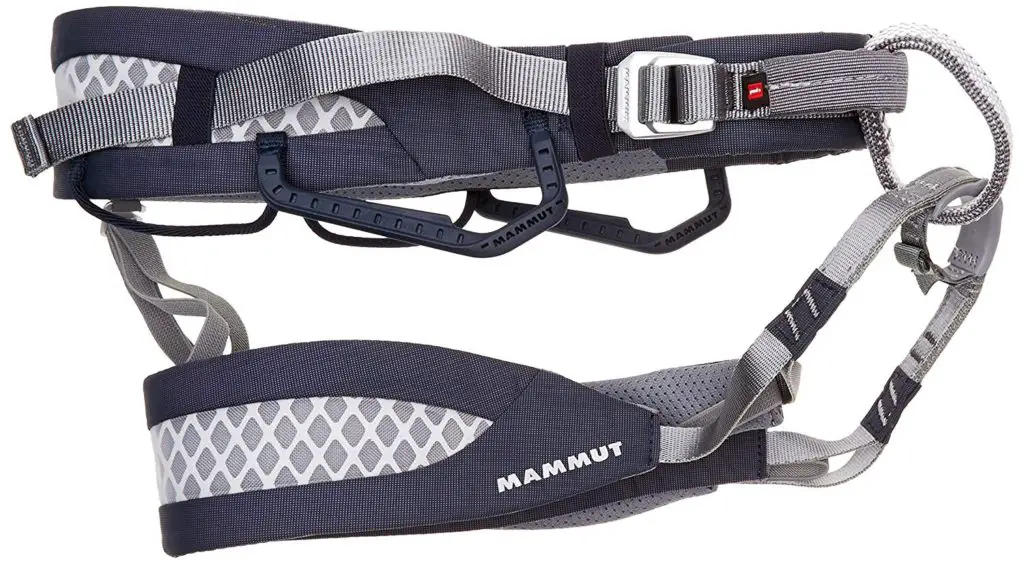 It's not the most versatile climbing harness for women out there, but if you're mainly hitting the climbing wall or anything vertical, it's a solid choice. It's extremely lightweight, very mobile, and incredibly breathable.
Hot weather won't bug you in this one, though as mentioned, it isn't as versatile as other harnesses. But if the gym is your Zen climbing spot, then step into this one. If not, the angled gear loops may be a pain on steep routes. It's not very padded either, but hey, if you're just starting out and sticking to the gym or doing easy climbs in a hot climate, you'll find this a very suitable option.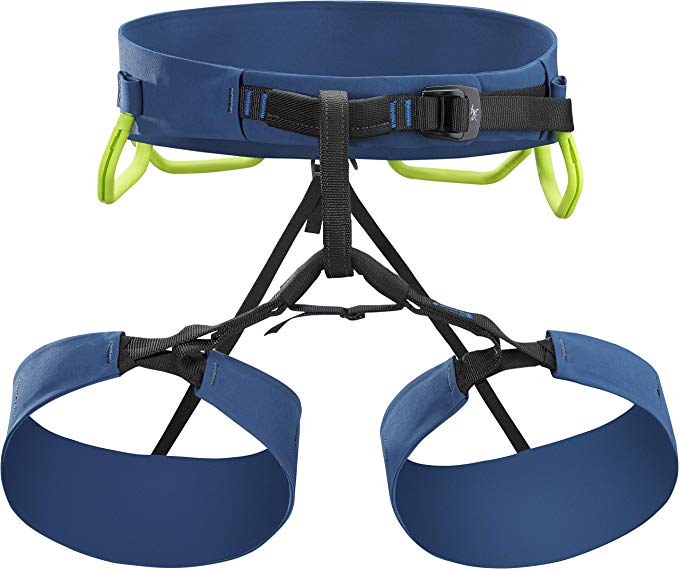 Thin and tape-like, this harness has a 4-inch wide waistband. No padding, but the load is distributed across the entire thing so it's amazingly comfortable. Since the gear loops lay flat on your hips, it's easier to wear your pack over it. It's also easy to fold down to a nice small size, making it great for trips.
On the downside, the legs aren't adjustable so you might find them to be a little tight, even compared to others with non-adjustable leg loops. It's also a bit pricier, but if it fits you just right, then the investment is absolutely worth it. For me, it was a little snug on the legs, but mine are a bit muscly and thick. I've met quite a few fellow lady climbers who love it though.
If you're looking for something with padding, you might want to keep looking, but if you want something with little bulk and loads of support, you're looking in the right place for sure.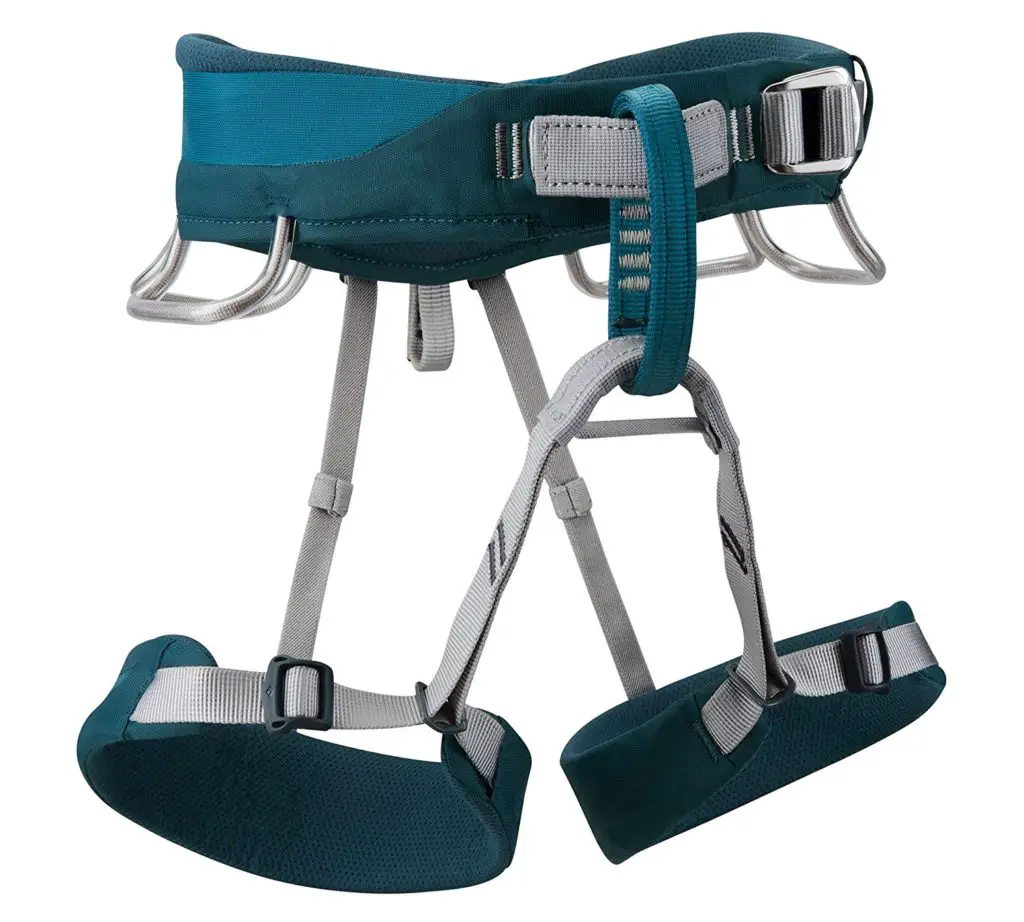 Newer to climbing? Black Diamond's Primrose is a good choice because it's not too expensive, plus to be honest, it's a great harness. This one features double-core construction and with the foam padding added in, it's ultra-comfortable. It also has rigid buckles and a fixed leg system to give you stability too.
It's a bit heavier though, but not to the point where it's going to bog you down too much. Because of the distribution of weight, you'll find climbing really comfortable and nice while wearing it. I definitely recommend for new women climbers because you'll feel comfortable and secure at the gym and on the crag. There's enough loops and slots for your gear and while it's not the most advanced of harnesses, it fits well and fits the budget for those just starting out that aren't going to be doing any of those crazy routes any time soon.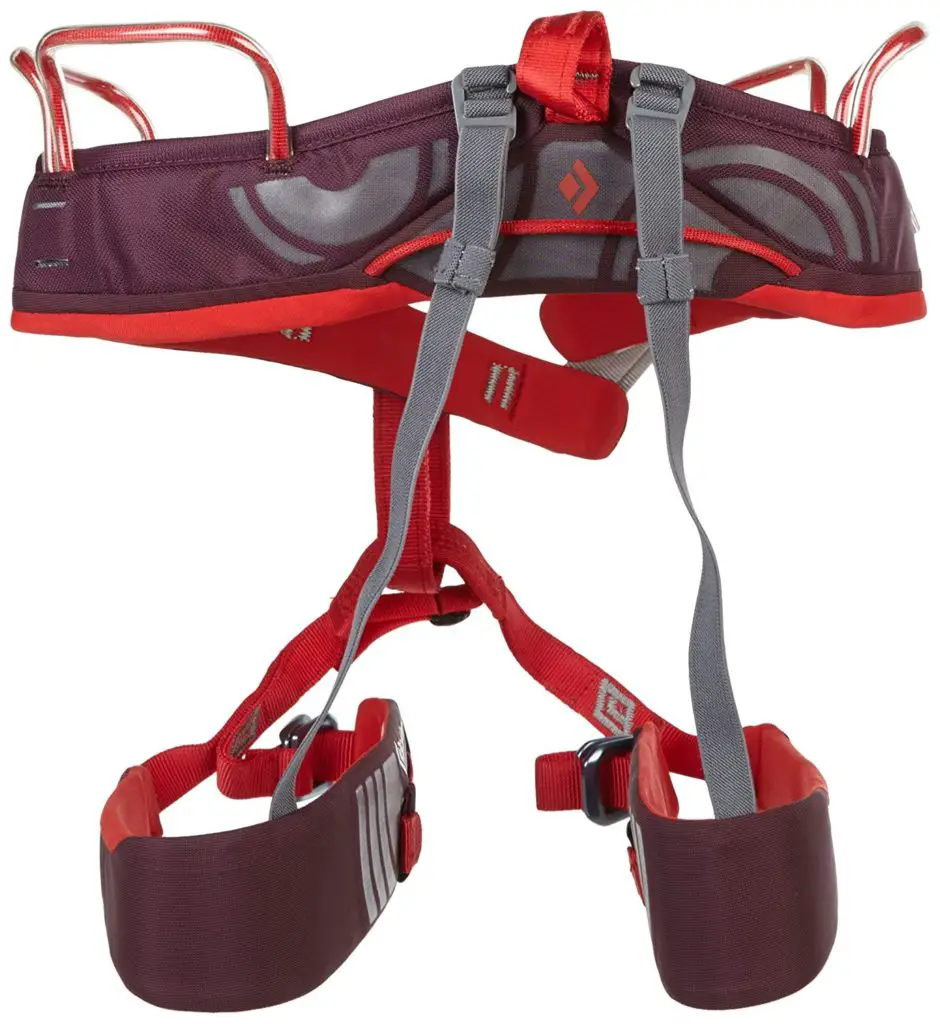 Another Black Diamond option, Lotus has that same dual construction plus dual webbing and EVA foam padding. It's comfortable, plus the distribution of your weight helps keep you nice and stable.
That being said though, it's not as comfortable as other ones on the list nor is it as soft, but you can overlook that. Plus, with more wear, the more it flexes to fit. So comfortable, yes, but only in due time. Think of it like breaking in new shoes if you will. That padding once you break it in is excellent for hanging.
There are also 4 different slots ready for you to use to carry your gear, each of them very secure and cut right into the waistbelt. So everything stays nice and tight, plus the plastic gear loop is rigid and sturdy, a definite plus. It's a versatile women's climbing harness for trad, gym climbing, or even alpine jaunts if you're so inclined. A bit heavier, but hey, it's durable and built to last.
Conclusion
So, discuss! What are your climbing needs? If you're a new climber, anything that gets you through your gym climbs is a great choice. And even if you're not new, you may want to opt for something lightweight and easy for those gym sessions so you're not lugging your sturdiest harness around with you.
There's the padding and comfort of it too. I definitely encourage you to go try these 8 climbing harnesses for women on to see how they fit. While you're at it, try on the men's and you will know what I'm talking about. 
I've given you 8 of the best climbing harnesses for women here because we aren't all built the same. And even if we're built similarly, you might enjoy different types of climbs than me or be a beginner and have different needs from your harness. Ones that don't have enough clips and slots for your gear might annoy you on a multi-pitch, but at the gym, it won't matter.
What you should look for when trying these guys on is how mobile you feel, how the padding feels, and how easy it is to adjust for your size. Your best friend might swear by one of these but when you try it on, it just might not be right for you. You will likely find your best match with one of these 8 climbing harnesses for women though, so go down the list and put them to the test.
I'm a firm believer in that anyone can climb, but with that comes getting the right gear for you. You can rent it at the gym all you like but if you've found a love for the sport, investing in your own is best, especially if you're taking your love of climbing outdoors. Get that comfort and that perfect fit because when you do, you're going to love being up there even more. You won't be thinking about weight distribution or how the leg loops keep pinching you or even slipping down. You'll just be thinking about that high that comes from getting high up on that wall, that crag, that slice of heaven we all claw to the top of to feel alive!