I'm going to go ahead and state the obvious here: climbing is a very dangerous sport to engage in. BUT, I'd like to put that "but" right in there and say this: that is why we have special safety equipment to protect us. When used properly, this equipment can protect you from major damage and allows you to safely enjoy the sport.
At the climbing gym, there are fewer hazards than out on the crag, but indoors or out, one of the most important pieces of climbing gear you need is a climbing helmet. Head injuries are no joke. I joke around about a lot of things, but I won't joke about that. When I was a kid, I remember my neighbor's big brother climbed up the massive tree in their yard and he lost his footing. He survived the fall but hit his head. The head injury he sustained is still affecting him to this day.
My parents trotted this out to me at every opportunity they could. When I'd go grab my bicycle or skateboard, they'd shout at me not to forget my helmet. The thing of it was though, I was so scared after what happened to that kid that I would never have dared to do any of those sports without a helmet.
And thus, since climbing can be dangerous, I have never once forgotten to take along my climbing helmet. I've slipped up and forgotten chalk, but even in my newbie days, I always had a helmet.
For those of you new to the climbing thrills or for anyone looking for a new climbing helmet after years of tattering up your old one, I offer this guide of the 7 best climbing helmets of 2019 to help you stay protected no matter what type of climb you're into, indoors or out.
Before you can pick your climbing helmet, make sure you measure your head. You'll want to measure it about one inch above your eyebrows and around to get the best fit. Once you know the circumference of your head, you can seek out the ones on this list to find the best climbing helmet for you!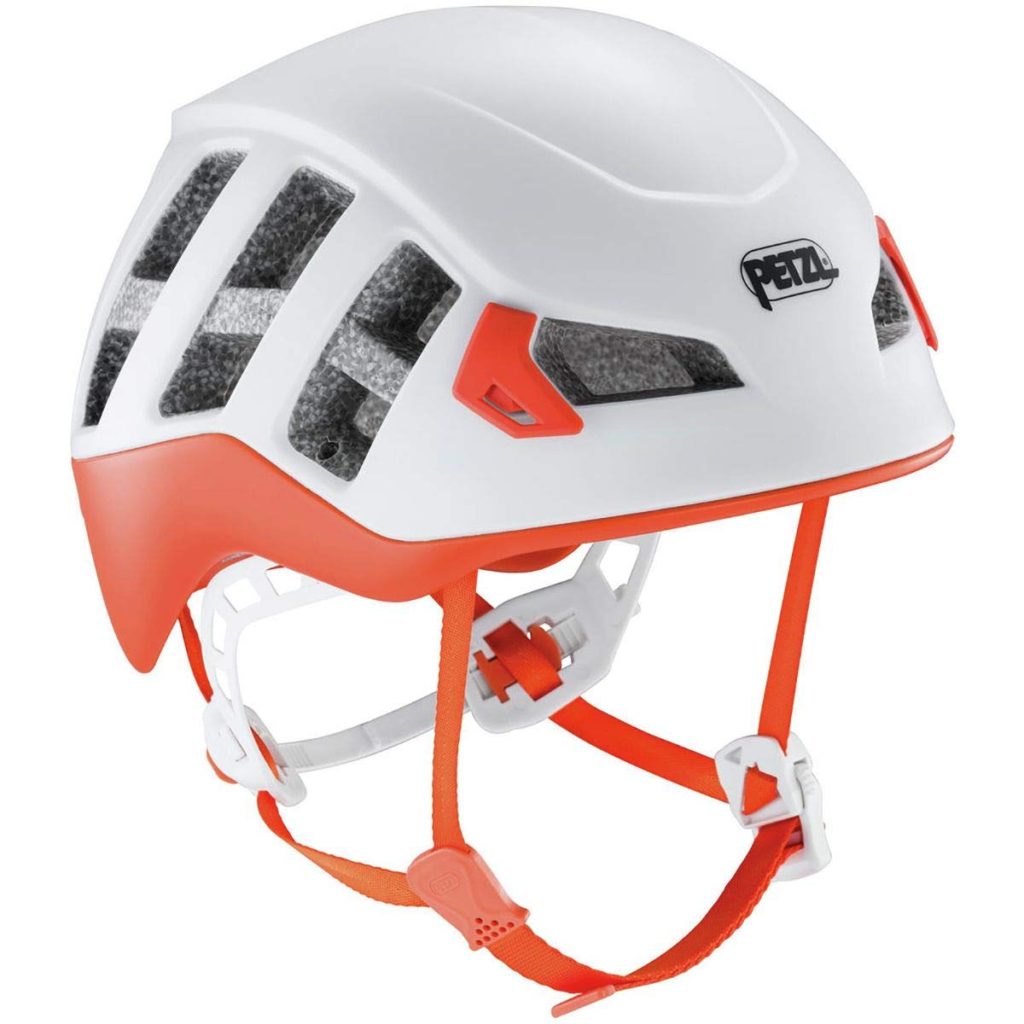 One thing I'm going to keep bringing up throughout this post is how protectiveness, comfort, and weight will factor into your decision for buying one helmet over another. It's a tough balance for climbing helmet manufacturers because, generally speaking, the lighter it is, the more comfortable it is, but then it's less protective.
But Petzl Meteor has managed to find a way to balance this trifecta for a helmet that is very comfortable, very lightweight (just 7.94 ounces), and very protective. Additionally, the venting is very well-thought out with 14 large vents to keep your head from getting too hot. I love this helmet for the versatility it provides climbers. I've used it myself and find it a great helmet for all forms of rock climbing.
What I haven't used it for is mountaineering or alpine climbing, and I haven't had the need to use a headlamp with it, but I've heard from others that it has a place for it to attach on there. The magnetic buckle on the chin strap lets you get it firmly in place with one hand, plus, like all helmets, it's unisex. I mention this because I've had women climbers tell me how they can keep their hair up in a ponytail and still be comfortable in it.
The only downside is that it's not exactly the most durable, but it is a solid choice for a climbing helmet. There are others that beat it in durability, but if you want a great balance of the trifecta of features, you might be very happy wearing this helmet.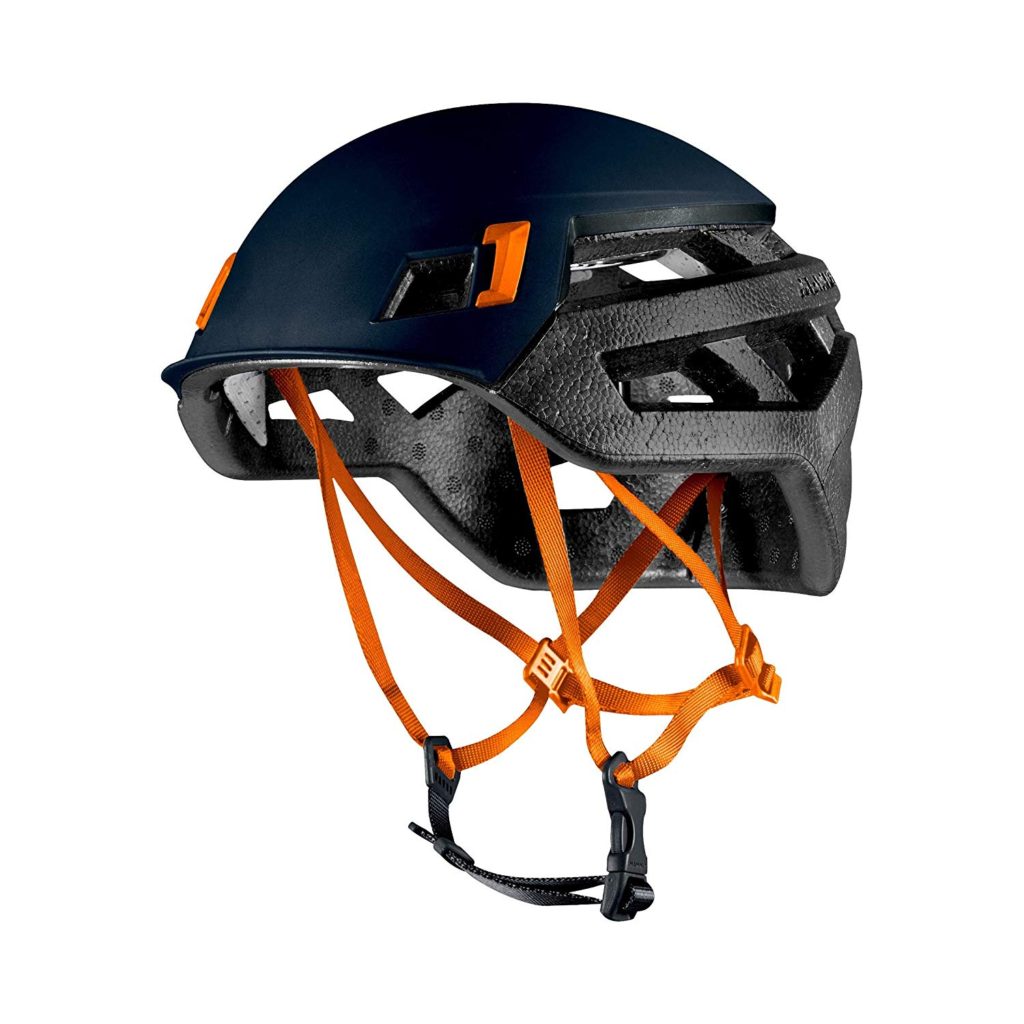 Mammut's Wall Rider is really similar to the Petzl Sirocco (which I'll tell you more about further down on the list), but it has a bit more added protection. The Mammut has a plastic shell on the front and the back is open for ventilation. The EPP foam it's constructed with makes it very lightweight and comfortable. I'd definitely recommend a helmet like this for a multi-pitch to keep you protected and comfortable for the long haul. It's extremely durable, able to withstand quite a few hits, all without cracking.
Once you get it on, you'll love it though adjusting it can be a bit of an ordeal. If you're planning on passing it back and forth, it might not be the easiest option simply because everyone will have to adjust it accordingly and the webbing harness system it uses takes some time to adjust properly. However, that aside, the plastic clip buckle around the neck assures, a strong latch for safe climbing. Pickiness aside, this helmet will keep you safe for indoor or outdoor climbs.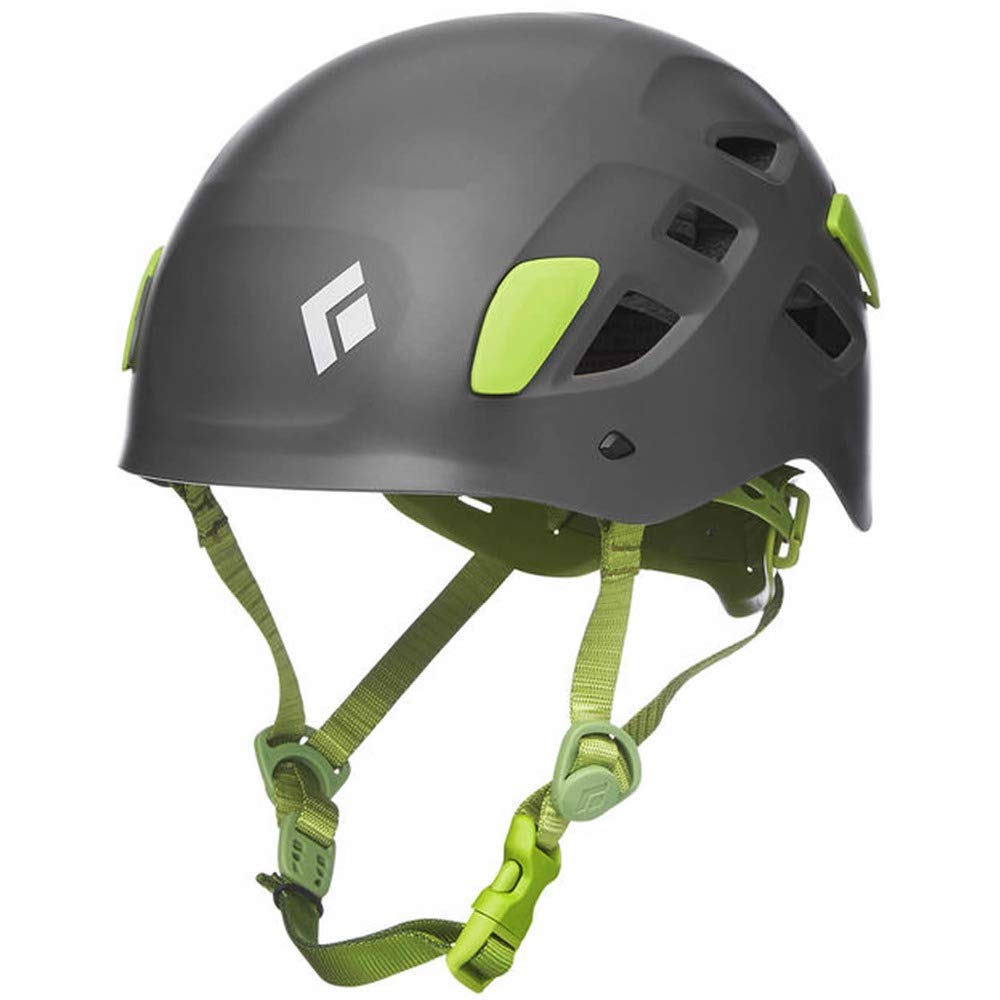 If you're on a tight budget, perhaps just starting out and overwhelmed by all the gear you need, I really recommend the Half Dome by Black Diamond. It's incredibly affordable, very durable, and easy to adjust. The click-wheel adjustment system on the back can be controlled with just one hand, so if you've accidentally tightened it too much, you can loosen it up with ease.
You can also easily and very securely put a headlamp on top of this if need be, or even cooler, a GoPro HD Hero 7 to record your climbing adventures. Of course, there's no thing as the perfect helmet for every person. You'll have to decide whether their downsides are a deal-breaker. For this one, the great disadvantage it has is that it is heavy. At 12.1 ounces, it's going to weigh you down, so it's probably not going to be your favorite helmet when you're out on the crag. The ventilation isn't the best either, but if you're using it starting out, chances are you're sticking to the climbing gym and in that case, the weight and lack of ventilation will be a moot point for you.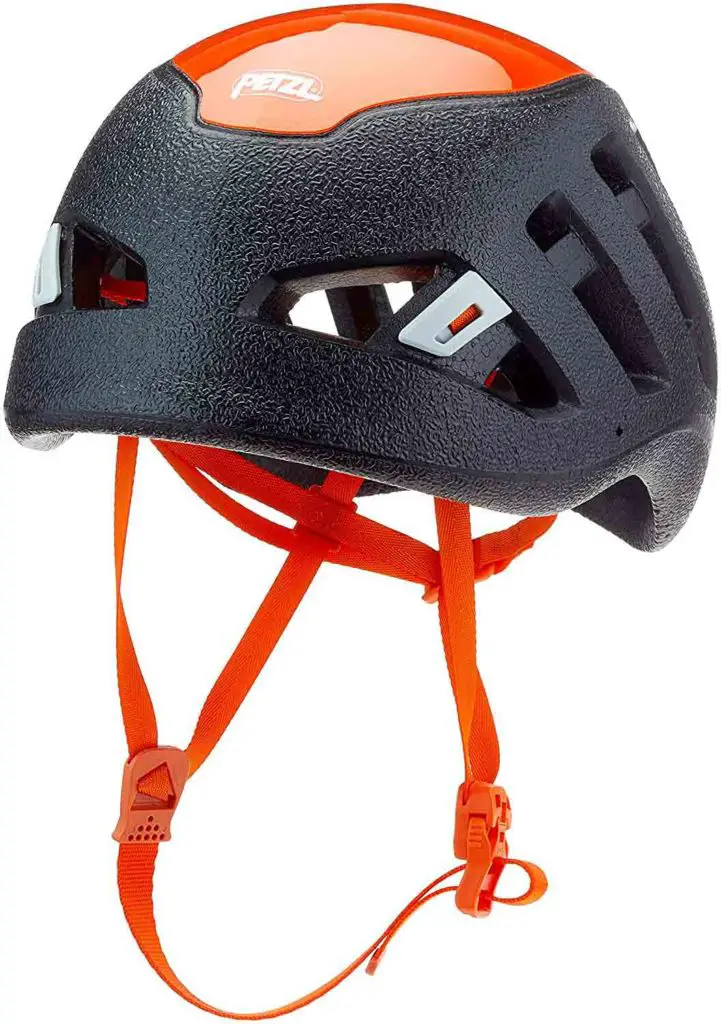 I've got to hand it to this Petzl helmet here, it's one of the lightest helmets I've ever felt. The Sirocco put all its focus on going light and comfortable, plus it has excellent ventilation. It's so lightweight, when I tried it, I seriously forgot I had it on when I went to leave, only noticing in my car mirror that I'd forgotten to take it off. It's only 6.1 ounces so really, you barely know it's there.
But it knows it's there. And it's durable with EPP foam to protect your skull, even going further back down for added protection. The older model of the Sirocco gave the look of an orange parking cone scaling a crag. The redesign is much cooler and gives you the kind of protection and lightweight comfort you want in a climbing helmet.
I recommend this helmet if you're one of those crazy daredevils that doesn't really want to wear a helmet but can't find a climbing partner because they're afraid to see brains splattered all over the pitch (I'm definitely with them on this, bro). It'll serve you well indoors but especially outdoor when you want to keep the weight of your gear down to a minimum.
Fun fact: "sirocco" means "hot and dry wind" for which it was given because of the ventilation, so if you're climbing in hot climates, it will keep you feeling cool. As if climbing up a crag wasn't cool enough! There are a couple downsides though, despite that it has some pretty major brownie points with climbers. The tradeoff for such a lightweight and sturdy helmet is that the price is one of the highest there is, check out the current price on Amazon. Newbies will likely shy away from it until they get more into the sport to see if they really want to make that kind of investment. Another thing, which may or may not bother you at all, is that the Sirocco comes only in black and orange or white and orange. So, if you have money and like orange, then you'll be absolutely thrilled, I know that I do.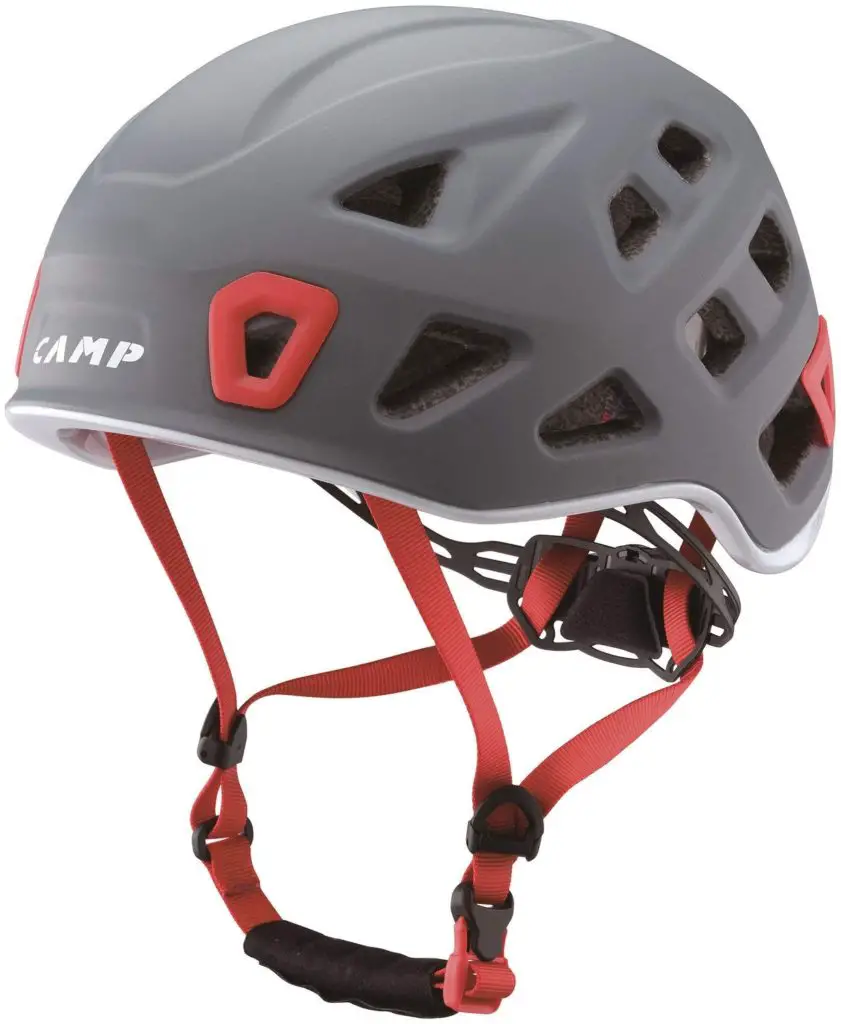 This is a newer entry that released in 2017. It's a very lightweight foam helmet and is similar to many of the others, including the Petzl Meteor, though it has a different shape. Because heads are all different shapes and sizes though, you may find this one gives you a better fit than other ones.
At 8.7 ounces for the large size, it's a bit heavier than other helmets though definitely not the heaviest. It features adjustable V-yokes and a slider bar in the back rather than a knob to make adjusting it easy. It's versatile for crags or alpine climbing, and at its price, it's comparable to others. I've heard good things about it and I think the adjustment feature is a nice touch. It's a little less comfortable from the weight, but the protection it provides is outstanding, a solid climbing helmet choice for sure.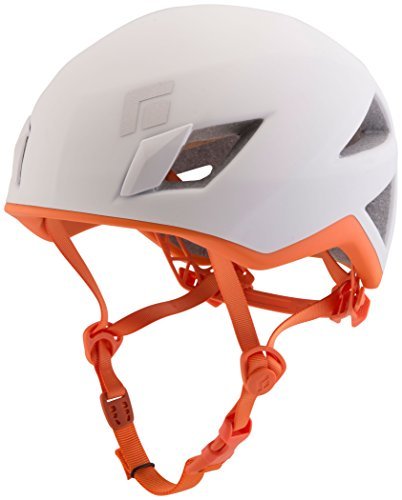 For those of you that think wearing helmets is tragically uncool, you'll likely find Black Diamond Vector to be the exception to your rule for cool. It's very comfortable and lightweight, much like the Petzl Sirocco. And if style is your thing, then you'll be happy to know there are tons of cool choices of colors to perfectly match your vibe.
With large ventilation ports, you get nice comfort and coolness even when it's a hot day at the crag. Colder climate? The Vector can be easily adjusted so you can wear a beanie underneath to keep you warm and protected. It's 8.5 ounces so while that's not quite as light as the Sirocco, it does provide excellent coverage and durability to keep you safe.
Because of this, it's very versatile for just about any type of climbing, though I think you'll particularly like it when you need to wear a helmet for long stretches like on those multi-pitches and can easily hop along with you to the climbing wall for practice days.
We all have differently-shaped heads and some people happen to have larger heads. If this has been your dilemma, try the Black Diamond Vapor. It's a bit larger, designed for climbers with heads that are 23 to 25 inches around. You need something to protect your head, no matter it's size, and it's dangerous to settle for something that won't keep you covered.
Before you think it's huge and heavy, think again! Black Diamond thoughtfully included a size to keep you protected out there, while keeping it lightweight and comfortable. And like Black Diamond's brand is known, it's incredibly strong, capable of taking a beating. It also adjusts easily to fit over your head even with a beanie to protect from the cold. So you're always covered with this one.
Conclusion
Each of these helmets is a great choice, depending on your needs and what features are most important to you. You'll do better with a lightweight helmet if you're looking for something new for those multi-pitch climbs, though for new climbers, it won't matter if your helmet is a little heavier when you're starting out at the gym.
Whatever you're into, I recommend going in and trying them on first before ordering one. You want to make sure you like the fit. You know the saying "good on paper," right? All of these sound good, and all of them are good, believe me, but not all of them are going to be perfect for YOU. Your best friend may find his helmet to be the best but when you try it on, you may not feel the same.
So, go and try them on, get a feel for them, and climb on!