Air mattresses can be set up anywhere, thus the basis of their appeal for camping excursions. Even when deflated though, they can be a bit cumbersome. If there's any hiking at all on your trip to get to your desired campsite, you might be wondering if it's worth it to bring it along.
After all, air mattresses, as the name implies, are filled with air. And if the air outside is cold, won't that mean the mattress will be cold once full? You might be wondering, is sleeping on the ground in cold weather better than on an air mattress?
In short, no, it's not better, though it does depend on the air mattress. Choosing any old air mattress for a cold-weather campout isn't recommended. You need one that is specifically insulated to protect you from the cold ground. Even still though, if that's all you've got, it's surely better than sleeping directly on that cold ground.
With you and perhaps a friend or partner on top of that air mattress, insulated or not, you'll keep the temperature a bit warmer than the surrounding air. You will essentially stay warmer atop your air mattress than you will be shivering on the ground.
To understand this better, you need to know what contributes to heat loss. Keep reading and you'll be ready for your next campout!
The Heat Loss Process
Let's assume you're camping in a tent. Here's how heat loss comes into play.
– Conduction
Have you ever shared a bed with someone while you felt cold and they were nice and warm? Perhaps you shoved your icicle feet upon them in an attempt to warm yourself up. Or perhaps it was you that was the warm body to melt the chill. That's basically conduction.
So, when there's a hot element that contacts with a cold one, that heat transfers to equilibrium. Conduction is always greater in solids, like with human beings or in this case, the ground and the air mattress, because the atoms are closer together and transfer their energy.
Let's say you're sleeping on the ground. Since your body is producing heat to keep up your temperature, it's working constantly. That's because the ground is much greater in size than you are and you're never going to warm it up enough to that equilibrium point. Thus, an air mattress makes much more sense.
– Convection
With convection, the air works as a fluid and will transfer heat. If your air mattress doesn't come equipped with a barrier to prevent convection, any air you heat up will still wind up mixing with the colder air. You're still going to feel cold which will be too extreme to allow for good sleep.
– Radiation
Do you know why those shiny emergency blankets work? It's because they reflect the radiations your body (which is a heat source) produces. Basically, you can think of it as a more subdued fire. Even when you stand a bit away from a roaring fire, you can still feel the warmth of it on your skin. The same principles apply here.
So, what does this all mean for you when you plan your fall and winter campouts? Keep reading to know the best way to stay warm when it's time to turn in for the night!
Insulation and R-Value
Insulation is always the key to a good night of sleep when you're outdoors. This is still true in summer. Air mattresses are always handy, whether you've got extra guests coming to visit during the holidays or you're going camping. Predominantly though, for camping, you'll find that most air mattresses on the market today have synthetic insulation layers inside. Some will even have down insulation for very cold camping environments.
The R-value measures the capacity to resist the flow of heat. The higher this value is, the better insulation you'll get from cold surfaces. So, when you're shopping for air mattresses or even self-inflating pads, when you see an R-value of 1.0, that means it has minimal insulation. You'll see them go on up to 11.0 or even more than that which indicates they are very well-insulated products that will keep you cozy in the night.
The thicker the pad, the higher the R-value usually is. For summer or warm weather, you should choose one rated with 3.0 or higher. If you tend to get cold more easily or you camp out in the cold often, go with something that's rated with at least a 4.0. Unlike sleeping bags, you won't overheat with higher insulation on an air mattress.
Are you thinking about getting an air mattress? It sure beats sleeping on the hard ground. Inevitably, you'll wind up placing your sleeping bag on rocks. And even if you have the good fortune of a smoother surface, you might have back pain from sleeping directly on the ground. Add to it the cold weather and you'll be tired and cranky the next morning.
If you do have an air mattress, even if it's not insulated, it's a much better choice. You can insulate it to protect against the cold too. Read on to find out how!
How to insulate your air mattress against the cold
Some people wax philosophical about sleeping in the great outdoors as nature intended. They don't come down off that high horse until they have a stiff neck and back in the morning and have to hike or fish all day with that pain. If you want to assure your comfort while camping, use an air mattress.
But if that air mattress isn't very well insulated, how can you stay warm when it's cold or when you're up on a high altitude? You can use a few tricks to maximize your comfort.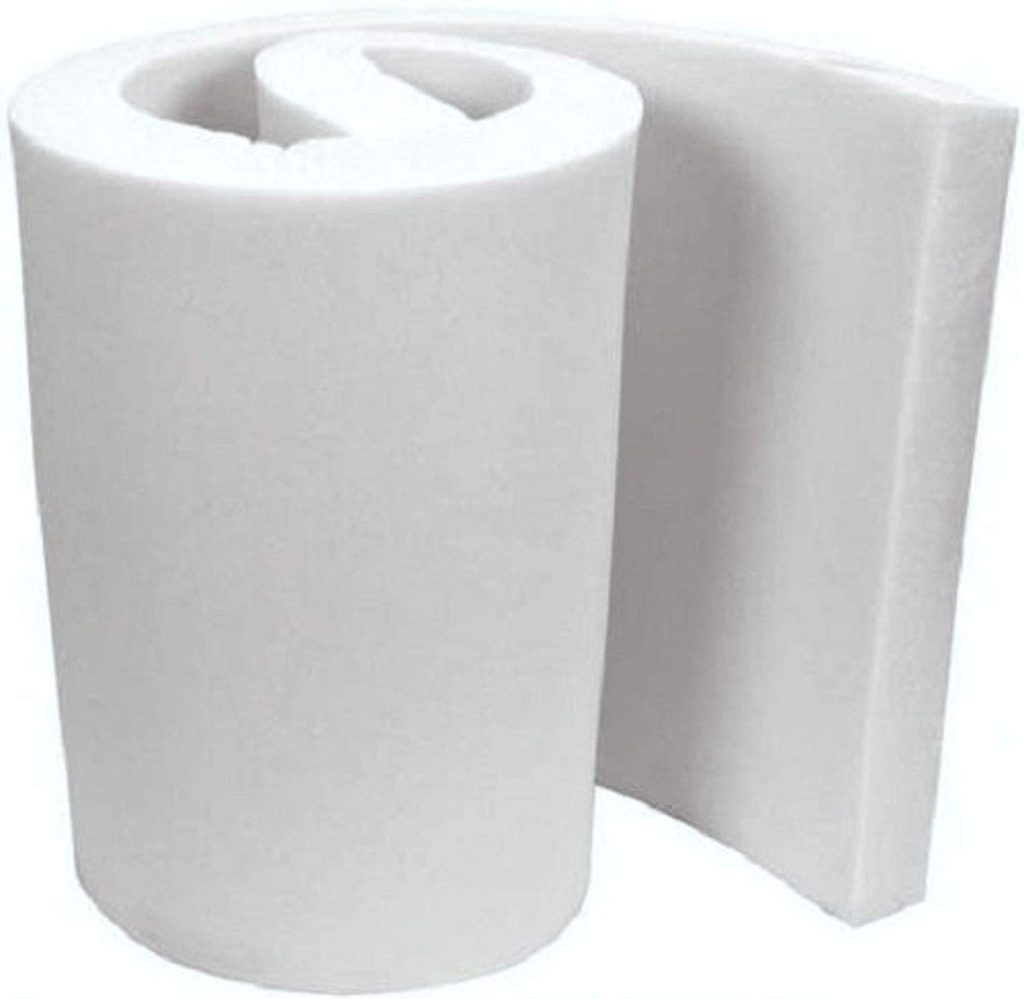 For starters, if you haven't yet bought an air mattress, get one that is insulated. This will save you heaps of trouble. But if not, you can use high-density foam like this one (Amazon link).
You'd think perhaps putting the foam under your air mattress would be a wise idea. However, you're much better off using it on the top of your air mattress. When it's below the mattress, the cold air can still creep into your mattress from the sides. Putting the foam on top keeps your body from directly contacting with the cold air mattress.
You can also put an extra layer of bedding on top of the air mattress. An old sleeping bag, emergency blankets, or camping mats are great things to use in a pinch. This can help you out when you've got no other choice, especially if the temperatures plummet more than you were expecting. It's also a good quick fix should you be less accustomed to camping in the cold than in the heat and find that you're a bit chilly.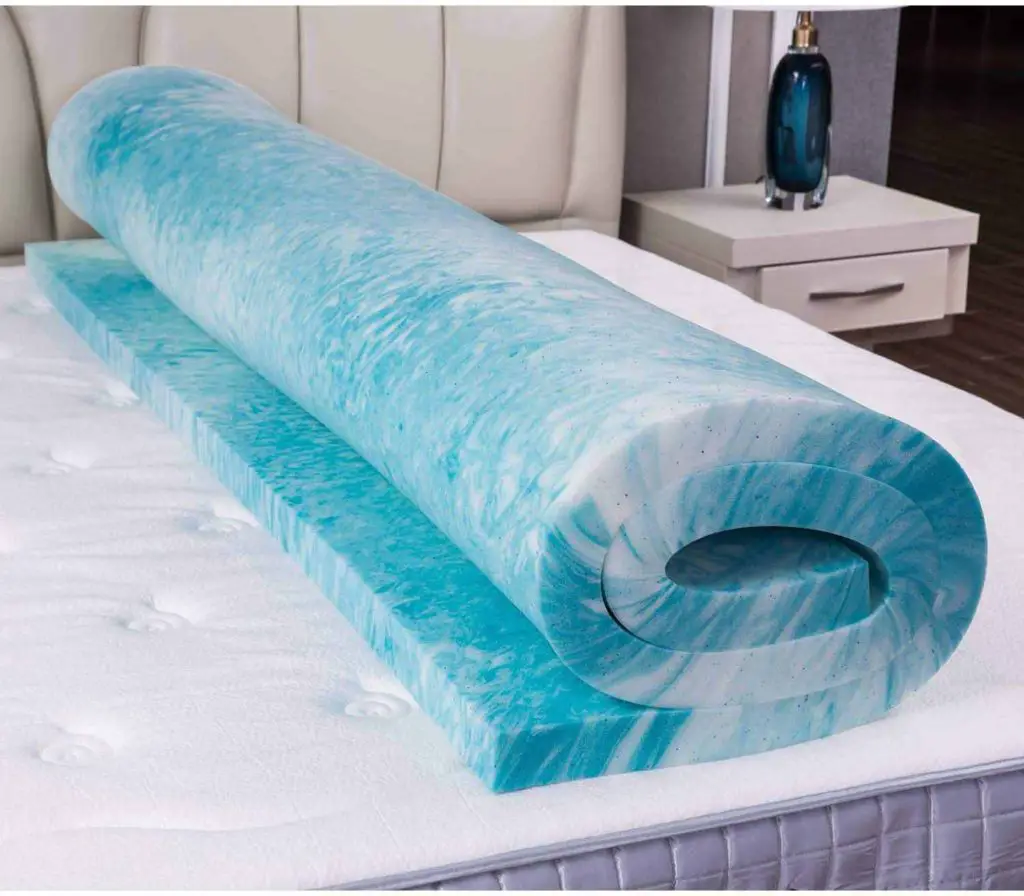 A good outdoors foam topper can add warmth
So, you've got an air mattress already. Perhaps you've had it since you lived further south or perhaps you've driven northward several states for an autumn or winter campout. To keep yourself warm, the easiest way is to get a foam topper like this one by Milemont (Amazon link). You can add this on top to keep cold air from keeping you shivering all night. Most of them, like LightSpeed, are about 0.05 inches thick and can roll up to a compact size.
Many people don't want to shell out more money for a new air mattress when the one they have is in new or like-new condition. Others just don't go camping in the cold as often. For people in these categories, this foam topper will be your best choice for keeping cozy. Plus, it won't take up much space in your gear.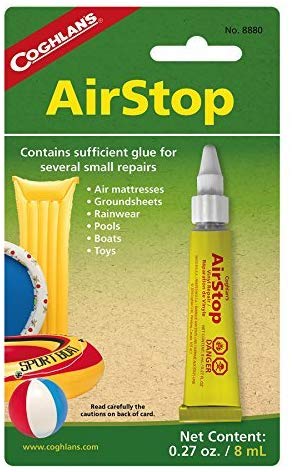 TIP: DON'T FORGET YOUR PATCH KIT
Before we move on to staying warm on cold nights camping outdoors, there is something you should never forget to take along when you are using an air mattress. Always pack a patch kit. You should have received one included with your air mattress when you bought it. Most come with them, but if yours didn't or you can't find it, you can always get a new one, I'd recommend Coghlan's Airstop Sealant (Amazon link). Don't leave home without it.
Even if you have the top of the line air mattress out there, it can still wind up with a puncture from sharp rocks, bear claws, twigs, branches, and plenty of other things. It's good to know how to use it to before you get outdoors and have to struggle to make a repair by lantern light. As anyone who has ever camped before knows, being prepared is essential for your survival. And while a blown air mattress isn't the kiss of death, you'll be mighty miserable lugging it around when you can't even use it.
How to Stay Warm During the Night
Camping in cooler months and at higher altitudes is very different from those warm summer nights. In the summer, you may not even use a blanket or sleeping bag. But in cold weather, you'll want to protect yourself from the elements. Here's how to take care of yourself in chillier temperatures to stave off hypothermia.
– Have a little bedtime snack
Did someone say s'mores? Go ahead and enjoy those s'mores or another little snack before bed. Digestion warms up your body on the inside which will be ideal for keeping you comfortable in the cold.
– Drink something warm
How about some hot chocolate to go with those s'mores? A warm drink will help keep you feeling warm and fuzzy on the inside. Don't go for the mulled wine before bed though. Alcohol will only lead to more heat loss from your dilated blood vessels.
– Try a little exercise, like yoga
Do something soothing in the way of physical activity. Yoga stretches in your tent can help you warm up. You can even do them on your air mattress!
– Dress accordingly
Long underwear and socks are a must for sleeping outdoors on cold nights. Keep your neck warm with a neck gaiter too.
– Try a hat
You lose a lot of heat from the top of your head, so if you feel cold when you first climb onto your air mattress, put a knit hat on until you warm up.
– Close up your sleeping bag
If you're using a sleeping bag on top of your air mattress, close it around your head so you keep warm. You can also stuff your dry clothes around the empty pockets so your body has less to heat up.
– Use that foam topper
Your foam topper will help add more insulation to the air mattress to help keep you warm.
– Use warm water bottles
Heat up water bottles and put them close to your core. Putting them between your legs can also warm you up very quickly by accessing your femoral arteries.
These tips will certainly help you stay warm and safe on your cold-weather campout. But if you need an air mattress, you should keep reading to find the best ones designed for cold weather. We've chosen the top-rated air mattresses that will be your new favorite campout gear for the cold.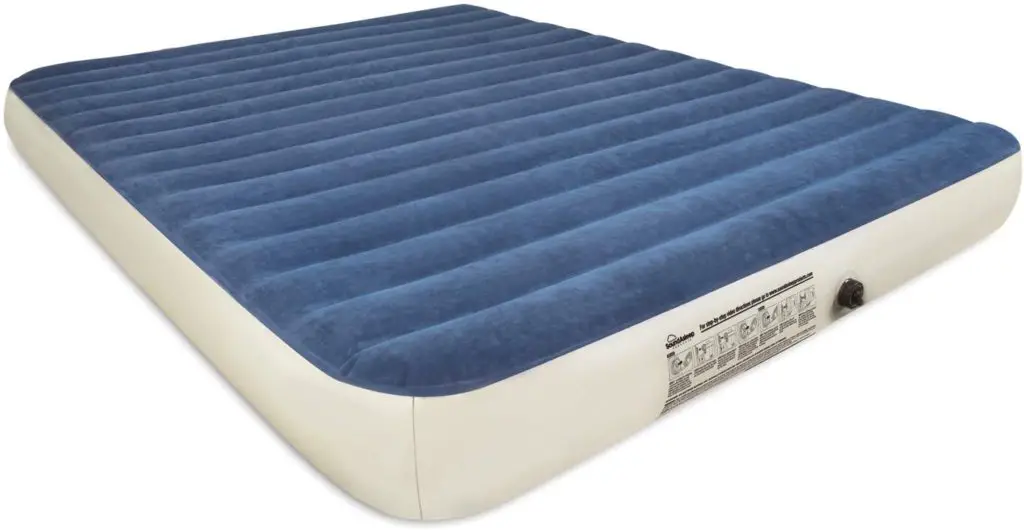 The Best Overall Air Mattress for Camping in Cold Weather
This air mattress ranks as our favorite for a number of reasons. It features ComfortCoil technology so it's not just a cushion full of air – it actually lends support and comfort out in the wild. With sizes available in twin or queen, it has a single height and is crafted from durable and sturdy material. The bottom features gripping to keep it from sliding on the floor of the tent too.
If it rains or snows, this air mattress is water-resistant. You'll be able to easily dry it off should you get caught by the weather. We also like that the pump is external. You can use it on other things or if you have a favorite pump, you can use that instead. The pump itself has a rechargeable battery. You'll need to charge it before you leave or plan on using your car charger to power it up. What's handy here is you can take a manual pump just in case and be able to fill it as needed should you space out and forget to charge it up.
Inflates and deflates easily
Rechargeable pump battery
External pump allows for the use of other pumps if desired
Sizing options
Cons:
No charging indicator on the pump
If you don't charge the pump up, you could wind up with a half-inflated mattress
Main Takeaway:
The SoundAsleep Camping Series Air Mattress is one solid choice for your cold-weather campout needs. It's reliable and highly-rated among other regular campers too, plus it's very versatile which means it should meet your needs.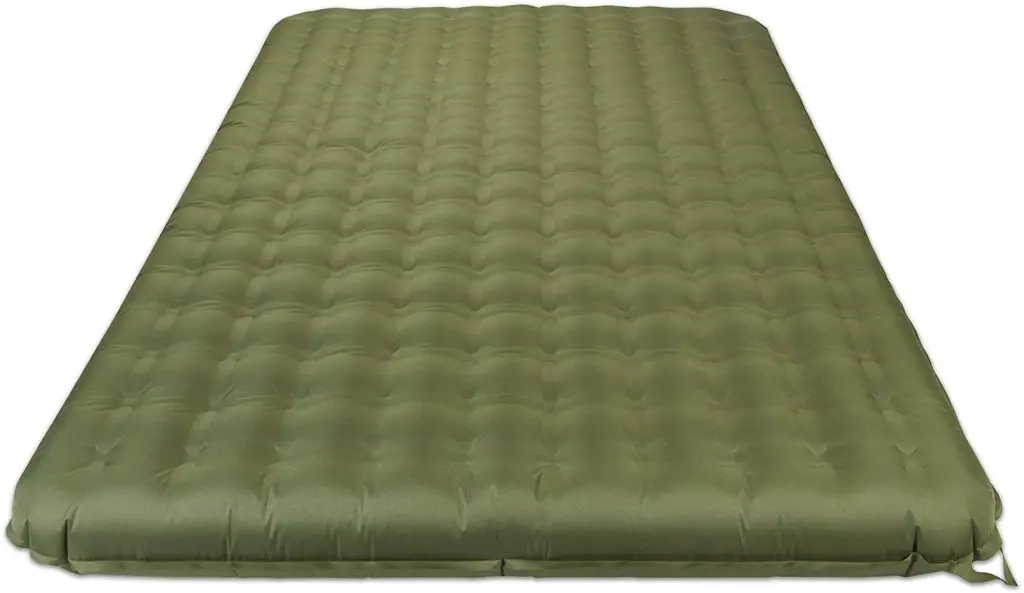 Best Lightweight Outdoor Air Mattress
If you camp with a lot of gear, you might want to lessen your load. That's where the Lightspeed Outdoors 2 comes in. This is a very lightweight design that is both compact and durable. Because of this versatility, you'll love it for camping or even day festivals. You'll also find it gets a lot of use when you have guests stay the night.
The height is low when it's inflated and it's easy to move around at just 6lbs. That immediately makes it a good consideration if you can't handle lugging around more things. Plus, most other air mattresses are made with PVC but the Lightspeed Outdoors 2 is made with TPU. This material is better able to resist abrasions and it's more flexible too.
Another thing we like about the TPU material is that it retains its shape and firmness while those made from PVC eventually stretch and become less firm in time. This air mattress also has a special stabilizing system that allows you to sleep well even if you're sharing the mattress with someone that habitually tosses and turns all night.
It comes with a carrying case, a two-way Boston valve, and you can even adjust the firmness to your liking. The pump is battery-operated so you won't need to worry about losing your charge on your lengthy camping excursion. All you'll need to do is remember to pack extra batteries in your gear.
The Lightspeed Outdoors comes with its own carrying case to make storage and transport as simple as possible. It features a two-way Boston valve as well as a port for adjusting its firmness to your preference.
It also comes with its own battery-operated pump so you don't have to worry about running out of charge on a long camping trip, you can just pack some extra batteries.
Pros:
Pump operates on batteries
Easy to inflate and deflate
Lightweight and easy to carry
Includes carrying case
Ability to adjust firmness
More durable TPU material
Cons:
Noisy material
A little small for 2 people
Main Takeaway:
The Lightspeed Outdoors 2 makes a great air mattress for camping in colder weather because it's light, easy to take, inflates easily, and adjusts for comfort.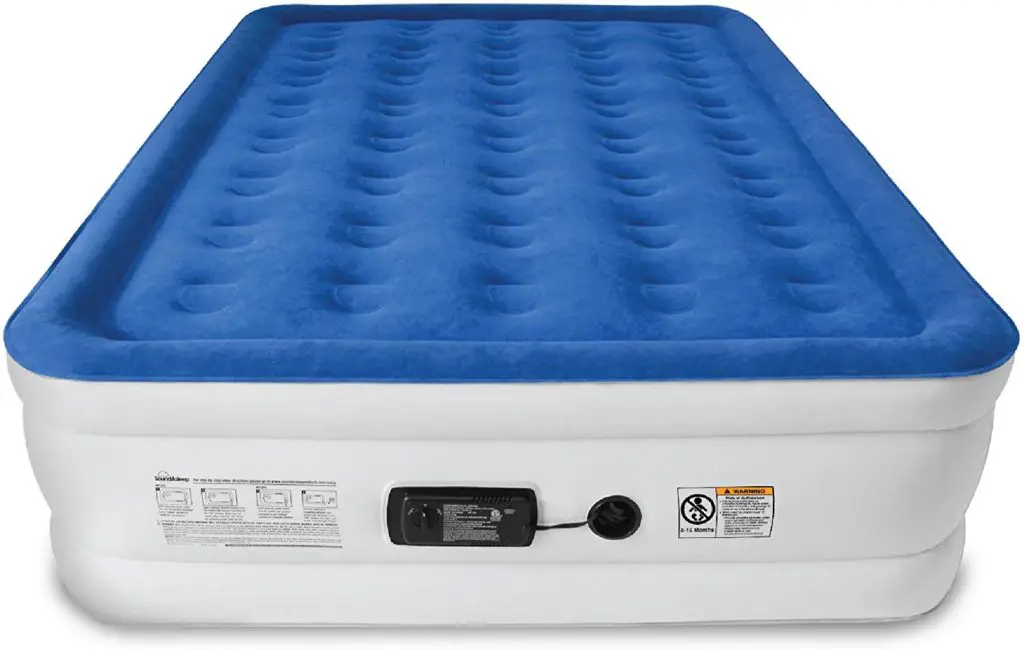 Best Luxury Air Mattress for Camping
Are you the kind of person that really wants to rough it but you're not quite that rustic? Or perhaps you are totally woodsy, but your partner isn't. In either case, the SoundAsleep Dream Series Air Mattress is the perfect solution. It's comfortable, durable, and has a double-height so it is more akin to that of a traditional mattress.
It should be noted though that this air mattress is really more for those that like glamping over camping. It pampers with 40 internal air coils so it stays firm. No dipping in the center means it provides full-on support all night. With grips at the bottom, it's not going to slide around either.
The pump is a patented design. It is quieter than other pumps and works very easily. You'll have your outdoor bed made in less than 4 minutes. However, if you are going fully rustic with your campout, this will not be an ideal choice for you. You need an electrical socket to power it. If you're camping near a place with outlets and electricity, this will work beautifully for you. If not, you will be stuck without a way to fill it up.
Technically, it's designed for indoor use, so if you're renting a thread-bare cabin in the woods or at a simple campground rather than in the deep woods, you'll be fine.
Pros:
Luxury sleep experience
Highly durable
Extremely comfortable
Cons:
Best suited for glamping rather than serious camping
It's very heavy so you won't want to lug it around very far
Main Takeaway:
The SoundAsleep Dream really gives a luxurious sleeping experience, though it is much better for glampers rather than serious campers. Still, it will last a long time and is an ideal choice for when you have holiday guests in town too.
Conclusion
Don't sleep on the cold ground when you go camping. You'll be miserable from the harsh ground and trying to stay warm. Get an air mattress that has proper insulation and take along an extra foam topper, blankets, and sleeping bags to stay warm with on top of it. You'll be infinitely warmer and cozier on the air mattress and you'll wake up well-rested, ready to power through being a pioneer for the day!