Looking for a new belay device? Or perhaps you're just beginning your adventures into climbing and getting your first one. Whatever the occasion, I hope I can provide some valuable insight to help guide you in the right direction.
If you're here, you know what a belay device is but what you may not know is what features would best suit your climbing needs. I'll take the mystery out of all that, don't worry. Below are 7 of the best belay devices and what makes them great as well as what you would want to think about when using them if they would be right for you.
All of these are great options but the thing with these is they all hinge on convenience of use and preference. It doesn't matter what I like – these are all fantastic options – but it's what YOU feel most comfortable with using. Having confidence in your equipment makes it easier to enjoy the moment when you're climbing, no matter where you are, whether you are the belayer or the climber.
What about where you'll be climbing? That's something to think about too when making your choice. On the crag, assisted braking devices are a huge help, but you really won't need that on the climbing wall. A little of both? Keep reading, and you'll find your best option.
You may also want to think about weight, ease of braking, peace of mind, and budget, and for all of those burning questions and more, I've got you covered. Let's do this!
This is without a doubt the most popular assisted braking device anywhere in the world. I'm not saying that means to run out and get it this instant, but it is a solid choice as a belay device. The reason it's so highly-favored is because it handles smoothly and has a strong catch. That's great peace of mind right there, plus it can handle ropes as small as 8.9mm.
I've used it, in fact, it was the first one I ever used thanks to my friend that got me into climbing in the first place. So I do have a fondness for it, and while it's great, it's not going to be for everyone. Here's why: it's a bit expensive (click here to check the current price on Amazon).
Quality will cost you for sure, and if you've only recently gotten into climbing, with all the gear you need to get, it might be more than you're willing or able to spend on. But let me assure you, costs are nothing compared to your safety. The thing you should really focus on with the GriGri2 is that it is a bit heavy, which might not be to your advantage.
Some people also have an issue with the plastic lever. Very, very, VERY few instances of that have ever occurred so worrying about that is a waste of energy, but the more concerning bit is that it sometimes get caught in the open position which can be a bit more problematic for the less experienced. Those that have spent a fair amount of time climbing and served as belayer will hardly notice though, but for beginners, with the latest safety features out there, you may want to look into those as well and compare how they serve you.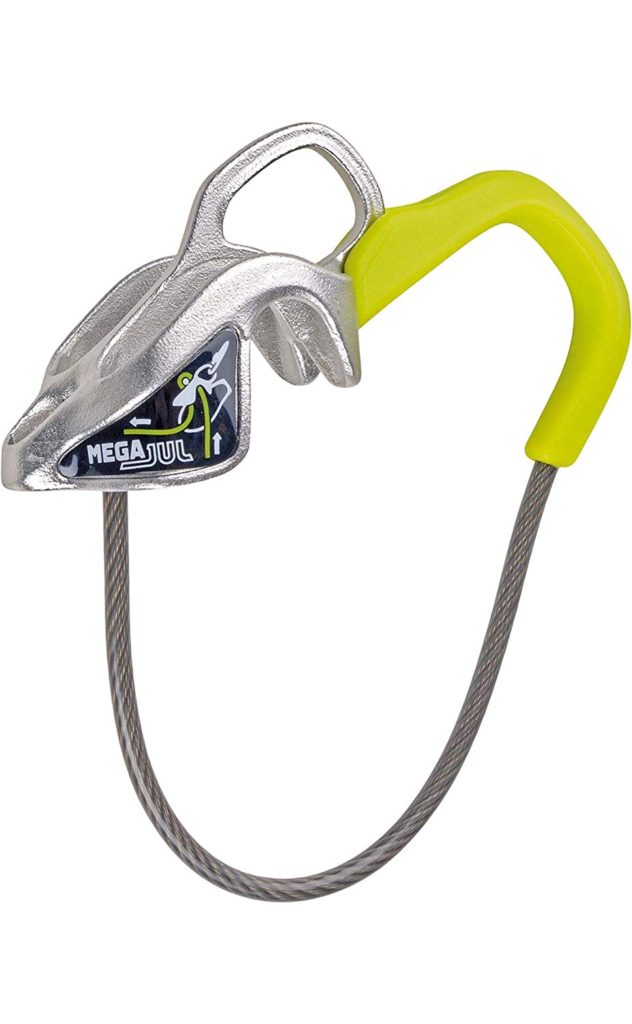 The tube-style design of this is just brilliant. It allows the belay carabiner to slide right into a slot when catching a fall. If that doesn't make you swoon outright, it's only 65g so it's a lightweight choice. You get hands-free rappelling and a guide mode too.
But perfect it is not (is anything really?), because it tends to do best with certain types of carabiners, particularly the HMS belay ones). Like every belay device though, it takes time getting used to it. The thumb loop is a smart way to unlock the device, but if you've used other belay devices, you're going to have to train yourself with this new technique of feeding slack. It's a bit tricky to smoothly lower, especially if you're not wearing belay gloves.
You can work around a lot of this once you get used to it. For example, if you're rappelling, flip it upside down for your best results. The guide mode is very functional but it can give off too much resistance. It's a bit trickier to learn on but once you do, you'll find it a very capable belay device.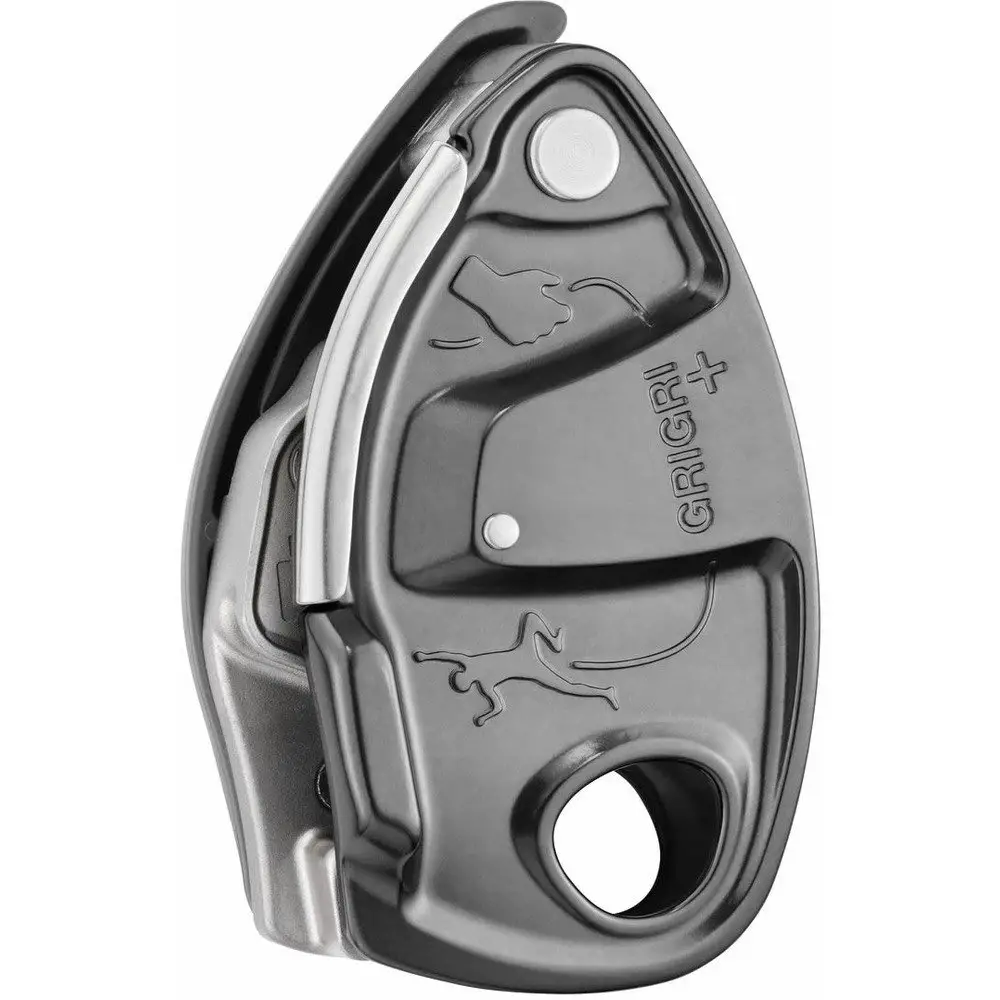 So, this one is the updated version of the GriGri2, released in 2017. When it comes to paying out slack and auto-blocks, it's as brilliant as the GriGri2. But there are some more features to love about it that make this a nicer choice for those of you that haven't been into climbing as long.
Among them, there is an anti-panic handle. I wish I had one of those for everything in life! Joking aside, it adds another layer of safety as you lower a climber or when you're rappelling. I recommend this belay device for newer climbers because if you pull too hard or go too fast, it locks up, which can help reduce accidents. When you're new to belaying, it pays to have all the help you can get. But even if you're not new, having the most up-to-date safety features really can make all the difference. You're not safe from accidents just because you're experienced. They can happen to any of us at any time, so the anti-panic handle is a smart upgrade.
But you'll need to watch it because that anti-panic handle often makes it lock up more often if you're not rappelling or lowering slow and smooth. You'll also need to remember to switch the lead and top-rope switch depending on use, but like all climbing equipment, you'll need to play around with it and get used to it. On the plus side, it can handle rope diameters of 8.5mm to 11mm. Overall, I'd say those slight disadvantages can be coped with and it makes this belay device a great one for added safety.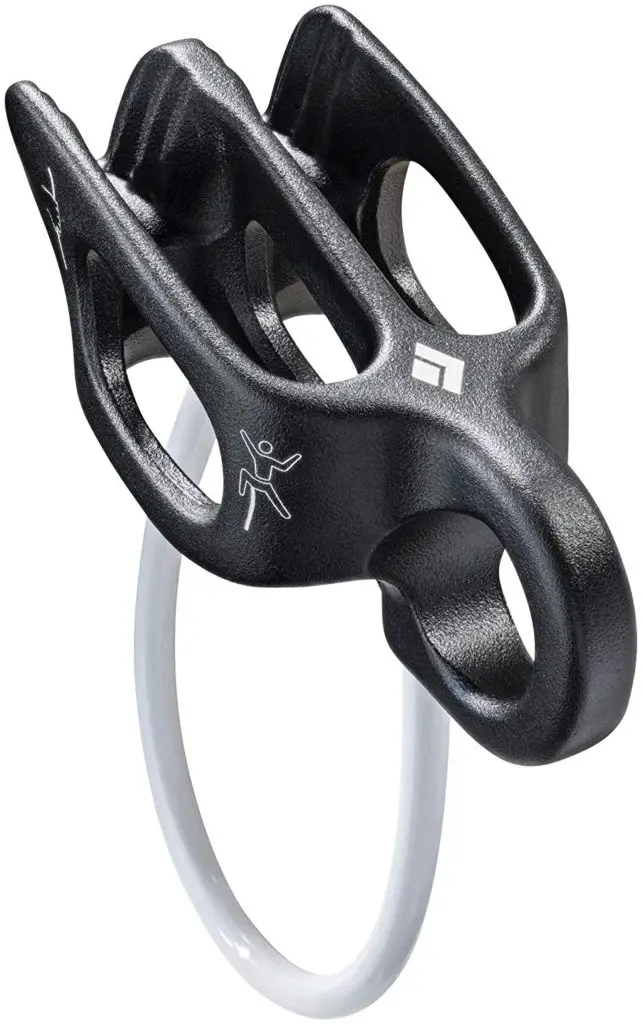 More experienced climbers that really enjoy all types of climbs, particularly multi-pitches, will certainly appreciate this belay device. It serves well for standard belays and also has an auto-block capability, so you can bring up followers directly with an anchor, unlike the first three on the list. Ideal for this sort of adventure, it's one of my favorites for its durability and great value, check the price on Amazon.
It's not that light though, but you'll forgive it for it's versatility. It doesn't have assisted braking except when you belay from the top, but again, this is the type of device that's tried and true, tested time and again, and something experienced climbers find simple and capable for multi-pitch situations. It's also very smooth when belaying from above.
Newer climbers will not find this one easy to use, but keep it on your list of belay devices to try out once you get more into the sport. You'll totally see what I mean once you build your techniques. It's like going back to a classic, and there's something really artful and meaningful in the climbing experience from that perspective.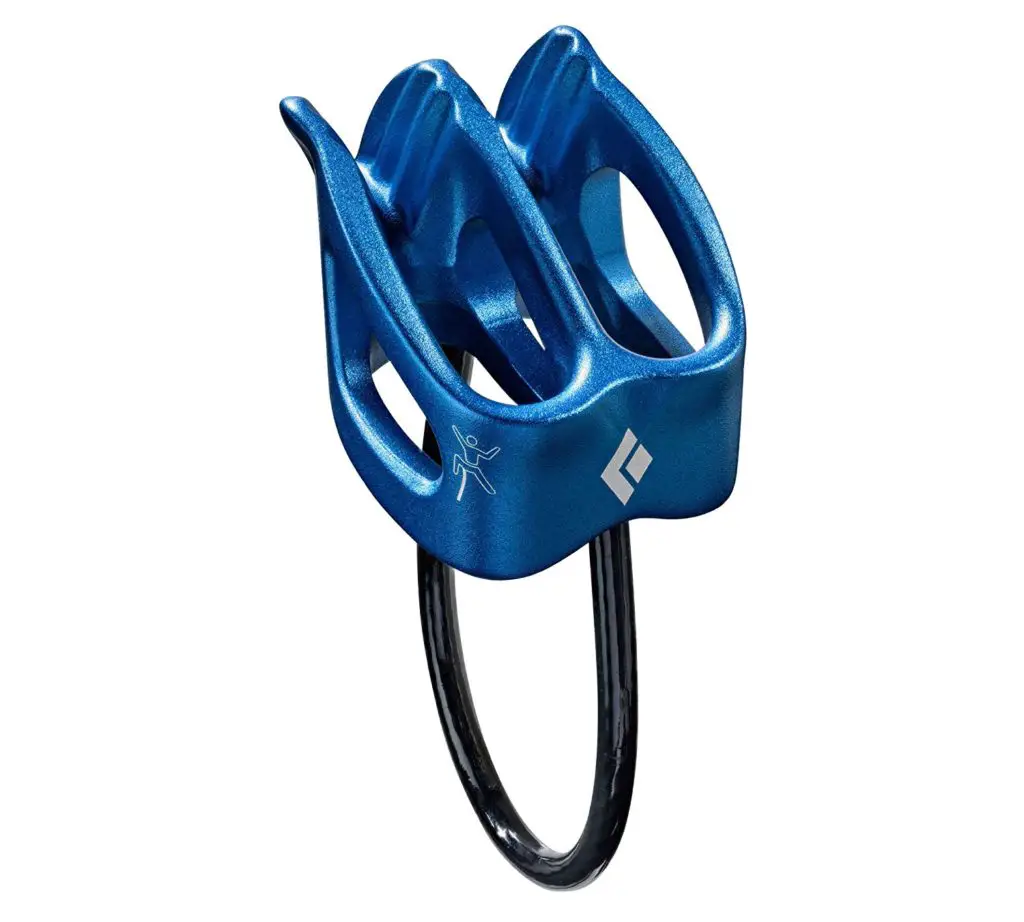 For the ATC-XP, you don't have a guide mode so multi-pitch climbs are not a good match for it. It doesn't have assisted braking either. Ah, but at the gym, this thing is king. In this type of setting when you need nothing more than a pitch long, this is just what you need.
It's also one of the most affordable belay devices, a nice option for those of you buying your first gear for climbing. You'll be spending a lot of time in the gym perfecting your techniques and the ATC-XP will most certainly help you do that. While the GriGri2 was the first actual belay device I used, this is the first one I bought myself once I decided I was all in with climbing and wanted to make the investment into getting my own gear.
Other experienced climbers told me at the time it was the best way to build good habits for belaying because it's simple, accessible, affordable, and reliable. I have to agree with that. In fact, my gym rents these babies out and you have to consider the reason they do is because it's a great belay device, for the gym. Outside of the gym, this wouldn't be my choice, but in that air-conditioned, safer environment, I think this is one belay device that will meet your needs.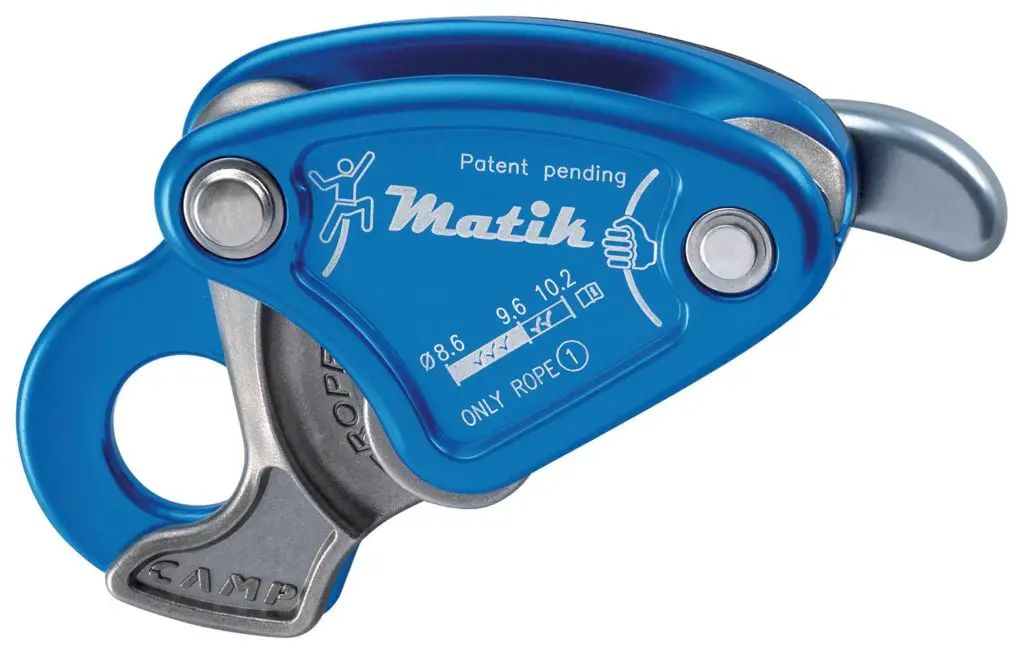 Got some money to burn? You may want to invest in the Matik. It's an assisted-locking design that's a pretty pricey investment. However, it's incredibly sophisticated and vastly durable. All the friction surfaces on this device are made from cast stainless steel, plus it has gradual camming action that gives you a fantastic catch. It's said to reduce the impact forces by up to 40%, a really nice stat.
And with that hefty price tag, you get an anti-panic system that automatically stops the rope if you pull the handle too hard or lose control while belaying. It's extremely innovative and ideal for those that really want the most up-to-date safety features. I'm not saying any of these others aren't as safe, but even experienced climbers may want to consider this belay device, particularly if they're taking a less experienced climber with them to be in charge of belaying.
It can handle ropes anywhere from 8.6mm to 10.2mm and holds up really well to wear and tear. Something like this is great for added assurance on the crag, no matter how experienced or inexperienced you are, as long as you're willing to make the investment.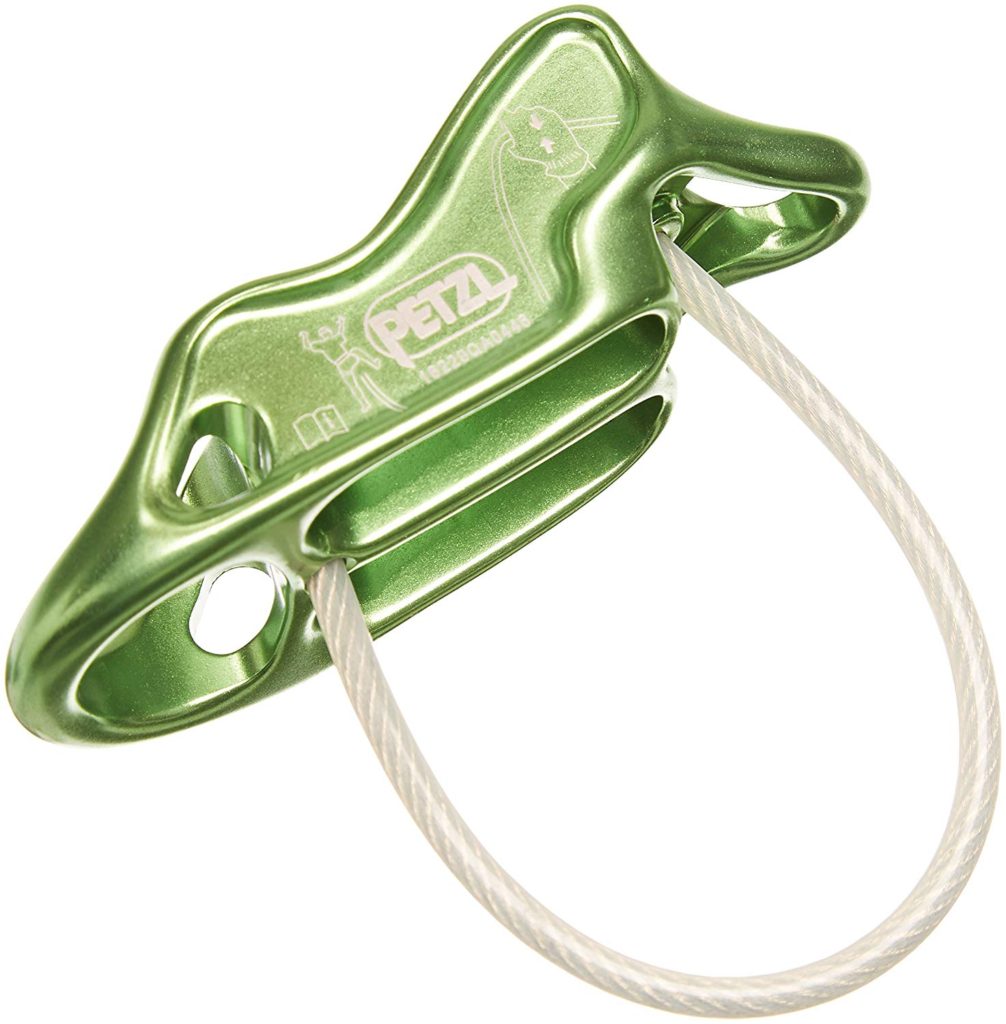 This multi-pitch tube is pretty adored, and I'll tell you why. It's one of the lightest belay devices there is. It's just 59g, making it a nice option for those long climbs. Plus, it's affordable. And it can host some of your widest ropes.
The guide mode is great, though a lot of people tend to compare it to the ATC and really, it's all about your preference. The Reverso does create more resistance, which can be a little tiresome during long climbs. You'll sleep great later though, guaranteed. One of its best assets though is that it's affordable. Ideal for a more seasoned climber, it's a reliable device, though for newer climbers starting to belay, it might be a little trickier.
Conclusion
I mentioned at the beginning that a lot of this comes down to your preferences and your needs. All of these are safe, highly-rated belay devices. But not all of them will be right for you. Experienced climbers may want to go for tried and true devices like they're used to, but there's something to be said for upgrading to the latest technology.
Especially if you're relying on someone newer to climbing to belay you, that anti-panic feature is a nice reassurance to have keeping you safe. You can never be too careful. But traditionalists will argue that it takes the sport out of climbing. What do I think? I think that if you don't feel safe, you're not going to enjoy being up there, so get what makes you feel comfortable and what you like working with.
How will you know? Sometimes it's just a matter of trying it out. Go with different people to the crag and try out their devices when you belay for them. Practice at the gym. Get it in-hand and physically work with it to see if this is something you'd be keen on using every time you belay someone or have someone use it to belay you. If it feels right, you know you've made the right decision, but with these 7 belay devices, you're one step closer to getting there.